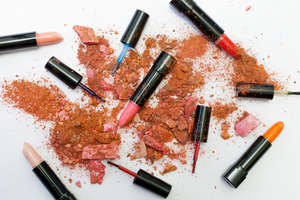 10 Lipstick Tips Everyone Should Know
Lipstick is a must-have cosmetic essential. With the right captivating shade, you can take all of your favorite makeup looks to the next level and receive that much-needed confidence boost. Of course, if you're anything like us, you're always searching for new and innovative ways to elevate your lipstick shades and achieve a more dimensional look.
We're here to help you step up your lipstick game and flaunt your favorite colors with ten tips and tricks. 
Let's take a closer look: 
1. Prep Your Lips With An Exfoliant
If all you're doing is applying lip balm to your lips every day, you aren't doing enough. Your lip balm protects your skin from environmental stressors and helps the delicate skin retain moisture. However, it can't buff away dead skin cells to promote new cell growth. 
With a trusted sugar scrub like our Sugar Scrub, you can prep your lips for flawless lip color application and eliminate flaky, dry skin. This will help you create a clean, clear canvas for your favorite lip shade to take center stage.
2. Try Monochromatic Makeup
A monochromatic makeup look is a timeless, classic style. To achieve the look, match your lips, cheeks, and eyes with the same shade. Look for lipsticks that can also be applied to your lips and cheeks for the best results.  
3. Play With a Plumper
Plumpers provide a temporary swelling effect to your lips, creating a fuller lip look to showcase your favorite shades. Our Marshmallow Lip Plumper contains peppermint oil, vitamin E, and ultra-fine glitter for a stunning sparkle finish. This plumper is also infused with beautiful pigment and a bit of shimmer to help perk up your pout so you can show off your favorite shades all day long. 
4. Have a Nighttime and Daytime Routine
Without lip care prep, your lips won't get enough nutrients to stay soft, supple, and hydrated. If you're serious about your lipstick game and want to get more from your favorite shades, you'll want to create a nighttime and daytime routine with products like our Honey Lip Mask. This ultra-hydrating lip mask will help soothe dry, chapped lips and get you one step closer to super cushiony kissable lips.
5. Find Your Undertone
Your skin's undertones tell you what colors you should wear and which ones you should avoid. Knowing your undertone will help you find the perfect shades that complement your natural beauty. 
There are three undertones: Warm, cool, and neutral. You can find your undertone by looking at your veins. If your veins look green, you most likely have a warm undertone. If they appear blue or purple, you most likely have a cool undertone. If your veins appear colorless, you likely have a neutral undertone. 
Once you know your undertone, here's what you should look for:
Warm:

Shades with an orange tint

Cool:

Shades with a blue tint

Neutral:

Option to play with both warm and cool undertones
6. Always Use a Primer
Never avoid your lips when you apply a primer to your face. With a trusted primer, you can keep your lip color looking its best throughout the day and prevent the shade from feathering. 
7. Try a Multi-Dimensional Lip Look
Craving a more dimensional lip look with the perfect amount of shimmer? Here's an easy way to do it:
Start with a lip liner base by lining your lips with the liner, and then fill in your lips to create your base

Apply your favorite lipstick shade 

Add a shimmering powder of a liquid highlighter to the middle of your lips

Bloat the shimmer until you get the look you desire
8. Stick to Your Natural Lip Shape
You've probably seen one or two tutorials online showing you how you can overline your lips to manipulate the shape of your lips. While this might look good on camera, it doesn't always have the same effect in person. Instead, it's always best to embrace your natural beauty and stick with that lip shape. 
9. Consider All-Natural Formulas 
The better the formula, the better the lipstick is for your lips. If you plan on wearing lipstick often, you'll want to start investing in high-quality products to keep your lips hydrated and moisturized. If your lips aren't hydrated, they could dry out your lips. 
Here's a list of ingredients to look for when shopping for lip care essentials:
Aloe Vera

Jojoba Oil

Honey

Avocado Oil 

Shea Butter
10. Set Your Lips With a Translucent Powder
Once you've applied your lipstick, bloat and dry it with a napkin. Then, apply a translucent powder to your lips to help your makeup last all day. For better results, apply a bit of powder in between each coat. 
Enhance Your Lipstick Looks with Lique Cosmetics
At Lique Cosmetics, we're all about lip care. All our products are formulated with nutrient-rich ingredients to help you achieve a kissable pout every time you apply your favorite lipstick shade.