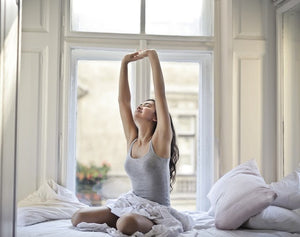 2021 Self-Care Survival Kit: Skincare, Lip Care, and More
Wearing masks, the anxiety of the unknown, and dreary weather haven't been kind to our physical and emotional wellbeing. If you're traveling frequently or get sick, your skin and immune system can take a beating. 
2020 was a total dumpster fire, but this year, all hope is not lost. Here's how to fight back against pandemic fatigue and be your most beautiful, centered self. 
Break away from your routine
For many of us, the pandemic has made life painfully predictable. Tired of watching Netflix or going to the park? Turn to your beauty regimen to switch things up! 
Research proves that happy little surprises are essential for good mental health, so go ahead and treat yourself to a mystery lip bag. Each bag contains eight products. Enjoy opening up your favorite Lique lip balms, lip glosses, and lip care products. After this year, you deserve it. 
Host a spa night over Zoom 
Book clubs, art groups, and good conversation--Zoom kept us from going crazy in 2020, and it looks like we'll keep using it for a good chunk of this year. Host a virtual spa night with family and friends to shut out the chaos and reclaim your Zen. 
First, set the atmosphere: turn down the lights, cuddle up in your favorite bathrobe and slippers, and grab your favorite drinks. Make an Apple Music playlist with spa music to help everyone wind down. Make the night feel even more spa-like with warm towels, hand lotion, and candles. 
Experiment with bright, playful powders for lips and eyes, sparkly lipgloss, and edgy eyeliner. Vote on who has the best look! After you and your guests are cleansed and fresh-faced, indulge in a DIY facial. Don't skimp on lip care: while softening your skin, apply your favorite organic lip mask. 
Steam away skin impurities  
Getting a peel or a facial is still risky, but there are a few ways to maintain your skin at home. 
One such way is keeping your complexion healthy with a facial steamer. 
Not only does the warm air feel heavenly on icy days, but the increased blood circulation makes your complexion rosy and plump. 
Try this DIY steam facial: 
Ingredients: 
Instructions: 
Boil 3 to 4 cups of purified water for 10 minutes. 

Place your herbal blend into a medium-sized bowl.

Slowly pour the water over the herbal mixture and stir. 

Hold your face over the bowl. Trap the steam by draping a bath towel over your head and shoulders. Breathe in the steam until the vapor cools. (The edges of the bowl shouldn't touch your skin.) 

If the steam softened dry, dead skin, gently rub the exfoliating side of your face towel or a washcloth along your skin and lips. 
How you top off your facial steaming treatment depends on your skincare goals. To open your pores and fight acne, apply a DIY skin mask with honey. 
To calm redness, use a few sprays of rosewater and aloe vera mist. 
Hydrate freshly exfoliated lips and skin with a moisturizer and lip balm infused with nourishing antioxidants.
Hydrate from the inside out
The eight glasses of water per day thing? That's kind of a myth, but you still need to drink enough H2O to support your skin. Mask usage causes acne and dryness, but it's a must. The CDC just ordered mask usage on all public transportation, and covering our faces will be the norm for at least another year. 
If your lips and skin are parched, even with the right lip care regimen, increase your daily water intake. Tender, irritated skin needs plenty of moisture to recover, but stay away from quick fixes like Aquaphor (hello, clogged pores) and fragrant moisturizers. Try body-safe facial oils, such as jojoba oil. Jojoba-rich lip balm nourishes and heals cracks in your lips, too. 
The pandemic might seem never-ending, but no storm lasts forever. Listen to your body when you feel exhausted and overwhelmed. Get plenty of rest, wash your hands, and reconnect with your community if you feel alone. If you suspect you've been exposed to COVID-19, remember to stay home and talk to a healthcare professional ASAP.