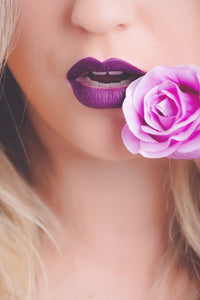 4 Tips & Tricks to Get Moisturizing Matte Lip Colors
If you want lasting lip color, matte is a great choice — but it's not-so-hot for dehydrated lips. With a little preparation and the right arsenal of products, you can make gorgeous long-wear lipstick feel just as good as it looks. 
Why is matte lipstick so drying? 
Matte lipstick isn't known for its moisturizing effects. The price to pay for date- and party-proof lipstick is often a cakey, peeling pout. The main culprit: Most matte lipsticks contain a higher ratio of moisture sapping ingredients to hydrating ingredients like beeswax oil and all-natural fruit and vegetable oils. 
Luckily, Lique matte lipsticks don't contain synthetic ingredients that leave your lips high and dry (...literally). Because matte lipsticks created with coconut oil, avocado oil, and other ingredients that your lips love means lasting pigment without those pesky drawbacks. 
But even matte lipsticks aren't quite as smoothing as a creamy lipstick. Liquid lipsticks with a matte quality tend to be even trickier. We swear by these four tips to get matte lips that feel smooth and plush all day long. 
#1: Develop a hydrating lip care routine
The best method for keeping matte lipstick from drying out? Keep your lips supple and hydrated. 
If you're slathering on products like lip balm and Aquaphor and drinking plenty of H2O and still can't get your lips to quit cracking and flaking, you might need to switch to a new toothpaste or even a less drying face wash. 
How you take your makeup off matters, too. Using an oil cleanser is ideal; if your skin is prone to breaking out, try a milk-based cleansing formula. Even if your matte lipstick is stubborn, resist the urge to scrub it off with a towel or (gasp!) rubbing alcohol. Save the big guns for other skincare concerns. 
Try this simple lip care routine to banish peeling, flaking, and excess skin for good: 
Start off the day by cleansing your skin or rinsing your face with tepid water. Super hot water is sure to dry out your lips! 

If you notice your pout needs a little TLC but isn't in the danger zone (think open scabs and seriously deep cracks), apply a dime-sized amount of your favorite soothing lip scrub for 1-2 minutes. Rinse with cool water. 

Follow up with the right products for your makeup routine. If you're going for a 'no makeup' makeup look or you're skipping makeup altogether, try a healing lip butter for maximum hydration. Going for liquid lipstick or a matte lip? Stick to only a thin layer of organic lip balm. 

Before bed, don't forget to cleanse (even if you went bare-faced!) and apply an overnight lip mask. 
#2: Apply a high-shine lip gloss over liquid matte lipstick
Liquid matte lipstick tends to be even more dehydrating than traditional matte lipstick. Keep dryness at bay with a simple solution: A few layers of a high-shine lip gloss that plays up your lipstick! 
Summer 2021 is all about bright, playful shades of red and pink vs. placid pastels. Try pairing our matte liquid lipstick in 'Love Letter' with our 'Devine' lip gloss for a flirty pink pout. If you're a fan of classic reds with a summertime twist, combine our matte liquid lipstick in 'Crush' with a rich berry lip gloss in 'Catfight.' 
#3: Wear at least one layer of lip balm under matte lipstick 
Ordinarily, wearing lip balm under lipstick is a no-go (especially for rich, creamy formulas). Matte lipstick is the exception. Lip balm primes your pout to apply matte lip color. 
Even better, wearing lip balm on the daily protects your lips from irritation (think drinking acidic soft drinks, dry air, and even the sun). 
#4: Prep and define your lips with creamy lip liner 
The only other drawback to matte lipstick? Once you apply your favorite product, it's not easy to remove it. 
Get it right the first time and stay in the lines by priming your pout with our Lip Definer, an intensely moisturizing base that makes matte lipstick look stunning! Using a light hand, start by drawing in the inner corners of your lips and working your way towards the center. 
Trying to pick the best shade of Lip Definer for your lipstick? Look for colors in the same shade family as your liquid lipstick that's a half shade darker. For an ombre lip look, go for a Lip Definer that's at least one shade darker.