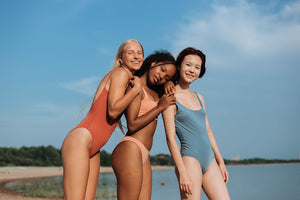 5 Essentials for Your On-The-Go Makeup Bag
It's time to reevaluate the products you have in your on-the-go makeup bag! Everyone needs to have a little something to carry with them that they can rely on while they're out and about with friends. This way, you can look your best all day long and never need to worry about smudging or mishaps. 
If you aren't someone that carries makeup everywhere they go, or you aren't sure where to start, we're here to help. 
Here are the five essentials you'll need:
Something glossy
Lip gloss is a girl's best friend. It's a must-have for anyone that's trying to maintain that clean girl aesthetic and keep a fresh appearance. 
However, you can't expect that lip gloss to last all day. You'll need to reapply it at least once or twice to maintain that glossy and clean look you're craving.
Our lip gloss is a non-sticky vegan formula that will provide a gorgeous tint and incredible shine. The curved applicator wand contours around lips for easy precision coverage, so you can freshen up in the car or while you're on the go.
Color for the cheeks
A little extra color never hurt anybody! Reapplying blush while you're on the move isn't always the easiest thing to do, especially if you're playing with a powdered blush. 
However, with something like our Lip & Cheek Stick, you never need to worry about that! It's easy to pull out of your makeup bag and quickly reapply, so you can get quick and easy, buildable coverage for your active life on the go.
Buy our Lip & Cheek Stick on Amazon!
Get your nutrients
Lip balm is essential because it has nourishing properties that keep your lips soft and smooth! 
Whether you're spending more time out in the sun or you're just going to work at the office, several environmental factors can negatively impact your lips. These environmental stressors can leave your lips chapped and not looking or feeling their best.
That's why you'll need lip butter or a lip balm by your side. 
Our lip butter contains honey, aloe vera, and vitamins E to help boost your complexion and smooth the appearance of fine lines and wrinkles. It's a boost of hydration your lips are in dire need of! Apply it while you're on the go, and then add your favorite lipstick or gloss. 
Want some quick and easy color? Try our lip balm!
Brows and lashes
Let's say you're at the gym and you didn't know you were going to go grab a bite to eat with your friends, you probably won't want to add a full face of makeup. 
However, if you have something quick and easy to apply to your brows and eyelashes, you'll be able to walk out of the gym confidently, ready for the day! 
A 2-in-1 product is easy to carry in your purse or makeup bag and provides twice as many benefits as other products! Our Duo Mascara and Brow Gel will nourish your lashes and brows while giving them flexible volume that you can flaunt all you want. Plus, you really can't beat this type of convenience. 
Buy Duo Mascara & Brow Gel on Amazon!
Color for the lips
Lastly, you're going to need some lip color! A go-to lipstick provides a much-needed confidence boost. With your favorite shade in your makeup bag, you can reapply after work to take on the day while looking your best. 
Try out our cream stick! Its lightweight crème formula keeps lips moisturized and provides an even color that's always comfortable to wear.
Fill up your on-the-go makeup bag with Lique Cosmetic essentials
Ready to refill your makeup bag with all of the needed essentials? We have you covered! From lip color and care to the must-haves to complement your active lifestyle... we have what you need. Shop our
wide selection today
and start refilling that makeup bag with all your essentials.