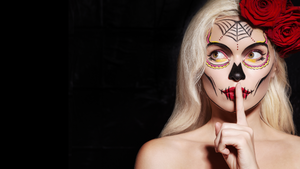 5 Spooky Makeup Looks To Rock This Halloween
It's the spookiest time of the year! Do you know what that means? It's time to trade in your simple everyday makeup looks for something with a bit more edge. Halloween is the perfect time to step outside your comfort zone, play with new looks, and channel your inner artist. Every day in the month of October provides a new opportunity to dress however you please for the night, and there's no reason not to take advantage of it!
Need some spooky inspiration? You've come to the right place. 
Here are our five favorite makeup looks you can try this Halloween:
Day of the Dead
Calavera makeup invites you to play with fun colors during the spooky season. With these styles, there's no right or wrong answer. You can add colors, designs, and details however you please. These sugar skull makeup looks are great for Halloween costumes and day of the dead festivities.
However, the downside to a full face of makeup is that it can be draining for your skin. To ensure your skin is hydrated and ready to be painted with a full-fledged look, you'll want to use our Ginger Mandarin Facial Spray. Spray your skin to add in an extra dose of hydration, and then get to work creating the perfect sugar skull look. 
Haunted Doll
Looking for a fun, out-of-the-box Halloween makeup look? We have exactly what you've been looking for. A Porcelain doll makeup style. We'll warn you now: Creepy doll makeup will give your friends and family a scare! 
These are relatively simple to achieve. All you need to do is add some stitches and freckles to your face. Then, use eyeliner to create a button-eye look. Once it's complete, throw on a dress and your hair in some pigtails, and you're ready to go.
A doll look isn't complete without a little subtle blush on your cheeks. Try our Passionate Lip & Cheek Stick for a playful addition of color to your cheeks. It's easy to apply and is formulated with hydrating ingredients, ensuring your skin only gets the best of the best! 
IT Clown
Who said you couldn't add a bit of glam with IT Clown? An IT clown makeup  look is relatively simple to put together and has a spooky finish. Which makes them great for putting together a quick and easy Halloween costume. However, if you want to add a girly spin to the IT clown look: consider playing with sparkly red eyeshadow, some eyelashes, and your brows. 
Doing this will help you make the look your own and give you a festive way to rock your makeup at a Halloween party. While you're out on the town sporting your IT makeup, make sure you have our Duo Mascara and Brow Gel by your side. This way, you can freshen up your brows and eyelashes throughout the night! (You can thank us later!) 
A Skeleton Bride 
Channel your inner artist and be a skeleton bride for a night. A classic skull makeup look is easy to recreate on your face and can be styled however you choose. Whether you want to dress as a bride or in an all-black outfit: You can't go wrong with a skull look for Halloween!
Before applying a full face of makeup, we recommend using our Face Primer Stick. Our primer sticks work as a base to ensure your makeup look will look its absolute best all night long. 
Glitz & Glam Witch
Looking for something simple and easy? Turn yourself into a glitz and glam witch babe! To achieve this glamorous yet witchy look, consider playing with pigmented orange eye shadows, bold eyelashes, and a touch of black glitter. 
If you're going to go all out on your eyeshadow look, we recommend going easier on the lips with our Flawless Cream Lipstick. The color is subtle, so it won't take away from your eye shadow, but it's also fun and playful. 
Keep your spooky makeup looks flawless
If you're looking for some go-to products with nourishing ingredients to keep your skin looking its best throughout Halloween, you've come to the right place. Our products are designed for every occasion. This means you can use them in your daily routine, full glam for that next Halloween party, or even in the spookiest makeup looks for your costume.  
To experience the Lique Cosmetics difference for yourself, start shopping today.