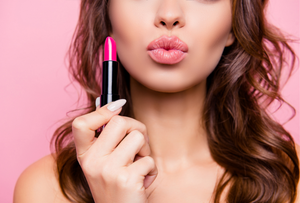 5 tricks that will make your lipstick last all day!
You've found your new favorite lipstick. Now, the tricky part is stopping it from fading during dinner or feathering on sweltering summer days. Before you waste tons of product, here are five things that you can do to make your lipstick last. 
Buff your lips into a smooth canvas for color
The unhealthier your lips are, the trickier it is to keep your lipstick fresh and even. Wearing a creamy lipstick alone might seem like an easy way to cut costs and look glam, but building a solid lip care regimen is a must. 
The difference between lackluster lips and a sensational smile? Exfoliating! Excessive friction can cause dryness, so be gentle with your lips and use a fresh, fruity scrub made with moisturizing ingredients like avocado oil.
Follow these lip exfoliation dos and don'ts: 
DO...
Prep your pout by taking a shower or using warm compresses 

Massage your lips with your favorite scrub in small, gentle circles 

Finish your lip exfoliation treatments with

a soothing lip butter

 
DON'T...
Exfoliate more than twice per week 

Grind your lip scrub into your lips 

Pick at peeling skin that doesn't fall off on its own
Always apply lip balm over your lipstick
You might think that lip balm primes your pout for lipstick, but it's just the opposite. Lip balm packed with ingredients that dry, irritated lips soak up, like cocoa butter and coconut oil, fights irritation. But it also creates an oily base that causes lipstick fade and feather. 
The best time to apply lipstick? Immediately after exfoliating. It should be the first step in your makeup routine! While your lips are still supple and soft, it's easiest for color to stick, especially if you're using a matte color. 
Prep your pout with eyeshadow primer and lip liner
Eyeshadow primer and lip liner are a powerful duo for making lip color last, even in high temperatures. But it's not quite as basic as slathering on your primer like a lip gloss. 
Follow these steps using Flirt, the perfect mix of this summer's warmest, most sensational shades: 
First, if your lips look a little thirsty, go back to tip no. 1 and follow our exfoliation and hydration guidelines. 

When your lips are smooth and moist, dab on a small amount of liquid eyeshadow primer along the outer edges of your lips. (Think of it as making an ombre lip of sorts.) 

Blend out any remaining primer. Let dry for 60 seconds.  

Next up comes the part that some people find tricky:

lip liner.

It's easy to overdo it, so start from the inside and paint toward the outer edges. You can also overdraw your lips to add fullness. 

Apply one layer of Flirt and allow it to set for a few minutes. Then, paint on an additional layer of color. 

Finally, top off your routine with a touch of lip balm that doubles as SPF. 
(If you don't have any eyeshadow primer, you can also use a cream or liquid concealer. But if you can't get enough of the sun, it might make dryness worse.) 
Use a brush to apply creamy lip color 
If lip liner isn't a staple in your makeup regimen, no problem. Brushes offer a similar level of precision application, which stretches out the life of your lipstick. Especially for those rich, creamy reds, which easily bleed outside the lines.
Grab your favorite fiery shade (we love Daring!) and saturate the ends of your lip color brush. Line the inner corners of your lips, allowing the color to dry as you paint your way inwards. 
Don't forget to blot, blot, blot! 
Matte lipstick in reds, pinks, and peach tones is a blast in spring and summer, especially if you're too busy exploring the great outdoors to reapply your makeup. But you can wear regular and super creamy lip colors even on hot days or warm nights. 
It starts with blotting between layers of lip color! Allow each layer to dry for one or two minutes before your next application. Peel one tissue in half and sandwich it between your lips, absorbing any excess natural and artificial oils. Dab a touch of lip balm under your cupid's bow, and you're good to go!