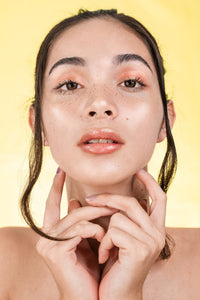 6 Hacks to Cut Your Makeup Routine Time in Half
Love doing your makeup, but need to save time? You shouldn't have to choose between getting more shuteye and looking fabulous. If you feel like you can't be productive and look gorgeous doing it, think again. Here are six simple ways you can streamline your makeup routine. 
Hack #1: Try a tinted lip balm 
If you don't have time to prep and prime your pout for full coverage lipstick, keep it simple with lip balm. Tinted lip balms are a fun upgrade for WFH fashion and take minutes off your makeup routine. No matter the weather or how active your routine, your lips need regular hydration—and using a lip balm prevents damage. 
Hack #2: Apply a lip scrub the night before 
Dry skin demands extra attention. Trying to layer even the creamiest lipstick over flaky, cracked lips is a time drain. 
Before you apply and reapply your favorite lip color (and end up staining your skin—yikes!), condition your pout with a soothing lip scrub infused with soothing fatty oils and vitamin E. As long as your lips don't have open lesions, you can use the exfoliating effects of natural sugars to help your lipstick glide on flawlessly. 
If you've never used a lip scrub before, follow these steps: 
Wash your face with warm water and your favorite cleanser. Pat your face dry while leaving your lips moist.
Scoop out a quarter-sized amount of your Lique Original Lip Scrub and gently layer it across your lips. 
With a soft toothbrush or a textured washcloth, spread the scrub around for two to three minutes. Rinse with cool water. 
By the way, how much water do you typically drink? If you're skimping on fluids, dry lips are a sign of dehydration. Aim for at least five 8 oz. glasses of water per day, no sooner than an hour before meals. 
Hack #3: Invest in a makeup organizer 
Make space on your vanity for a makeup organizer. It sounds ridiculously simple, but how many of us are guilty of using our makeup bags as storage?
Makeup organizers come in all shapes and sizes, but you should choose one with plenty of space for your favorite lipsticks, balms, and glosses. Keep your go-to lip colors at the front of your makeup organizer—and never waste time rooting around the bottomless pit of your makeup bag again. 
Hack #4: Experiment with the 'no make-up' makeup look
Barefaced beauty is making a MAJOR comeback in 2021. Most of us are still feeling pretty exhausted from the ups and downs we've experienced in the pandemic. Masks? They're here to stay (for the time being).
Whether you've permanently transitioned to a home office, or you leave the house every day, you don't have to spend tons of time on your makeup routine. Keep it simple with soft, subtle pastel eyeshadows, a brush of your favorite blush, and matte lip color in pink or nude. 
Not a lipstick fan? Keep your lips smooth and soft with a dab of clear gloss, or double up hydration and shine with a leave-on lip conditioner.  
Hack #5: Skip the liquid liner 
Liquid eyeliner is always in fashion. But it doesn't take a beauty guru to predict that 2021 will be a no-fuss kind of year, even for the biggest makeup fans. 
The simplest substitute for liquid liner: your favorite dark eyeshadow. Take an angled eyeshadow brush, lightly wet the bristles, and apply the shadow along your upper or lower lid. Think rich, Earthy tones like chocolate brown and brick red vs. black. 
Hack #6: Replace your foundation with BB or CC cream 
From the glass skin trend to foundation-free makeup, beauty in 2021 has shifted to pampering and embracing the skin we're in. 
But flawless skin without texture, discoloration, or a spot from stress? In a pandemic, that's a tough gamble. 
If you need to perfect and even out your face, but applying foundation is too time-consuming, try a BB or CC cream. The typical BB cream provides minimal coverage with the added benefit of SPF. 
CC creams are more buildable and better for even coverage that lets your skin breathe. Even better, BB and CC creams can be applied with a sponge or your fingers—no cakiness, no line of demarcation.