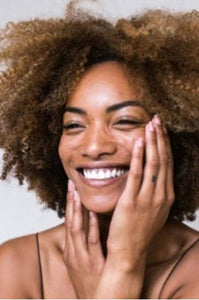 7 All-Natural Skincare Tips For Any Skin Type
The average beauty regimen is loaded with harmful ingredients. Fragrance, pore-clogging mineral oil, endocrine-disrupting phthalates, and other toxic chemicals are common in makeup and skincare products. 
The best natural solutions for skincare? 
Surprise: some of them are probably in your kitchen! 
Try our favorite all-natural skincare tips to glow from the inside out. 
Tip #1: Fight Free Radicals With Jojoba Oil  
It's never too early to think about anti-aging products. Experts say that jojoba oil might fight free radicals and protect collagen, the holy grail for youthful skin. 
And unlike retin-A, it's non-irritating!
If your skin is finicky or you want a minimalist skincare routine, jojoba oil is the product for you. 
It's a powerful four-in-one: a makeup remover, an SPF booster, a moisturizer, and a lip balm. Keep your pout plush and healthy with lip glossinfused with jojoba esters. 
Tip #2: Cleanse Your Skin With Coconut
Coconut oil and cocoa butter are the heavy lifters of at-home skincare. Capric, caprylic, and lauric acid in coconut oil protect your skin from bacteria and infections (think herpes, fungal acne, and pimples). 
If your face is super dry, use coconut oil after applying a humectant or emollient moisturizer.
Cocoa butter is packed with vitamin K, which heals cracks and lesions. Its creamy, thick texture is better for lip care vs. skincare. 
Try a lip balm infused with coconut oil and cocoa butter to create a barrier of moisture against cold, dry air. 
Tip #3: Mellow Out With Aloe Vera  
What's better than a cute houseplant that makes your skin supple and bright? 
Rich with vitamins C and A, aloe vera brightens and restores your skin. This gel-based emollient is safe for all skin types and not exclusively for sunburn. 
Acne, rosacea, hives, dryness--aloe vera is the magic ingredient for DIY skincare. 
Aloe vera mixed with vitamin E packs a one-two punch against inflammation. Apply a luscious lip butter twice per day for a plump, smooth smile. 
Tip #4: Sweeten Your Beauty Routine With Honey 
If you love creating recipes for homemade face masks, don't forget honey. Honey is a classic ingredient for every skincare concern. 
Dry, flaky skin? Raw honey ages into a gentle exfoliant. 
Pesky spots? Manuka honey's antibacterial properties treat and prevent breakouts. 
Face masks are fun, but they neglect one important area: your lips! Pamper yourself with an ultra-hydrating honey lip mask. 
Tip #5: Smooth Fine Lines With Shea Butter
If you need a hydrating, anti-aging product, shea butter is a simple, safe solution. Shea butter dates back thousands of years to West Africa and Egypt--it even gave Cleopatra skin fit for a queen. 
You can make your own shea butter masks, but it's easier to source them from your beauty products. Nourishing shea butter lip balm has a naturally sweet scent without any of the risks of artificial fragrance. 
Tip #6: Fix Dry Skin With an All-Natural Scrub
Coffee grounds, Himalayan salt, and oatmeal are universal favorites for DIY face scrubs. Exfoliating at least once per week is your first defense against fine lines and unevenness. If you have post-inflammatory hyperpigmentation or melasma, getting rid of dead skin is a must. 
Dead skin can build up on your lips, too. If your lips are cracked and flaky, figure out what products might be irritating them. Then, use a non-toxic lip scrub with plant-based oils followed by an organic lip mask. 
Tip #7: Rescue Your Complexion With Vitamin E 
When your skin is in trouble, see a dermatologist. But if traditional therapies just aren't helping, vitamin E is worth a try. This oil-soluble antioxidant supports scarred, irritated skin. It may help eczema, mild burns (say, going too far with an at-home chemical peel), acne scars, and severe dryness. 
If your skin reacts to e-eeeverything and you have active breakouts, save the vitamin E for your lip and hair care. Before you reach for your favorite lipstick, apply a vitamin E-based lip primer to create a seal against irritation. 
Looking glamorous should never come at the cost of your wellness. All-natural ingredients are a safer bet for healthy skin and lips without irritation (but remember to patch test). 
To look your best, pair DIY skincare with beauty rules of thumb: avoid red hot water, don't over-exfoliate, and always take off your makeup before you go to bed.