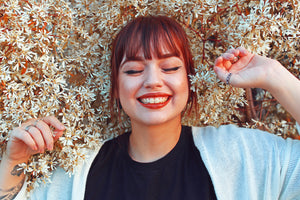 7 Lip Shades to Wear for Valentines Day
It's almost Valentine's Day! This mean now is the perfect time to prepare to look your best for that special someone in your life. And we're going, to be honest with you: No outfit or makeup routine is complete without a stunning lip shade. 
Whether you have a Galentine's Day date scheduled with your girlfriends or a date night planned with your lover - we're here to help. 
Here are our seven color choices for this year:
A Classic Red Lip
You can't go wrong with classic red lipstick. This showstopping color ensures all eyes are on you on Valentine's Day. 
With a captivating red lip like Daring, you're sure to turn heads and break necks - all night long. We recommend going bold with your makeup looks, pairing this stunning shade with a full glam look.
Bubble Gum Pink
Get playful and flirty with bubble gum pink lipstick or lip gloss. The playful pink color adds a hint of color and incredible shine - so you can achieve a kissable pout for your date night. 
Our go-to for this shade of pink is Forever Young. This non-sticky lip gloss formula contains an expert blend of jojoba seed and coconut oils for nourishing hydration and stunning application. 
A Deep, Seductive Red 
Deep red pairs expertly with cool or neutral undertones and will help you achieve that timeless look you crave. Plus, it's a great way to add a mysterious and alluring touch to your v-day makeup. 
If you're obsessed with red lipstick but want something more toned down - Crush is the shade for you. It's stunning, sexy, and enchanting - everything you need for a perfect Valentine's Day look. 
Very Berry, Please!
Want to have a little fun with your makeup? You can't go wrong with a very berry or pop of purple color. Very berry is playful and fun to pair with different makeup looks. The vibrant purple hue complements darker skin tones and individuals with cooler undertones. 
Put your date under a love spell with our very berry-colored lip shade, Potion. This bold cream lipstick formula pushes the boundaries of color saturation in just one swipe. The rich pigment provides comfort for all-day wear, so you can feel confident your lip color will last the entire V-day date. 
A Matte Nude
Keep things timeless, classic, and chic with a nude lip. Nude pairs perfectly with warm or neutral undertones and have an elegant look and feel. We recommend wearing a nude like with shimmery eye shadow and subtle makeup looks that you want to keep simple.
If you want to go matte, we recommend our stunning nude lipstick, Chatter Box. Our matte lipsticks feature a long-lasting, no-transfer formula, so you can rock a nude lips for drinks, dinner, or the movies. Even though the color is subtle, you're sure to steal the show and keep all eyes on you for the romantic night out you have planned. 
Go Mauve 
Mauve is a timeless pink shade that pairs elegantly with all Valentine's Day looks. The color is a dusty pink shade that is stunning and flirty. This shade adds a girly feel and pairs flawlessly with fair skin or neutral undertones. 
To get the mauve look, try our Doll Face matte liquid lipstick. The rosy pink hue of this lipstick will keep all eyes on your kissable pout. For the best results, we recommend layering on a plumping or regular gloss - for that extra boost of hydration. 
Glossy Red
A glossy red lip provides impeccable shine with every move you make. Going with a lip gloss instead of lipstick is a great way to add more dimension to your favorite makeup routine. The vibrant red color and the glossy shine ensure you're the center of attention on the most romantic day of the year. 
Our favorite shade is Catfight. This lightweight lip gloss is heavily pigmented for beautiful color coverage. The beautiful shine looks radiant on any skin tone, so you can confidently rock an elegant shade of red and look your best for your upcoming date night. 
The Lique Cosmetics Difference
At Lique Cosmetics, all our lip shades are formulated with next-level nutrients, so you can feel good with the products you're using while flaunting your favorite colors on Valentine's Day. 
Whether you're looking for a gorgeous, class-red lip color or a playful pink: We have what you're missing.
Start shopping today if you're ready to upgrade your lip care routine.