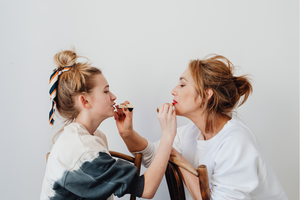 7 Lipstick Shades to Wear This Winter
Winter is finally here! And now is the time to retire those vibrant pinks and peach-colored lipsticks you used throughout the warm seasons. Don't worry. You can come back to your go-to summer and spring colors in a few months! But now is the time to play with fun, daring statement shades and timeless colors that pair perfectly with chunky sweaters, cute booties, and your favorite beanie. 
Here are the seven lipstick shades we have on our radar this winter:
Vibrant Red
Everyone needs a go-to red lipstick they can trust to add an elevated touch to all of their favorite winter looks. Whether you're getting ready for a holiday party or spending a day in a winter wonderland: Red lipstick is a show-stopping favorite. 
Meet your new favorite red: Scandal Cream Lipstick. This luscious red lipstick is a crowd favorite for your wintertime festivities. Whether you're going on a date, a party, or a special occasion: All eyes will be on you when your lips are dressed in this beautiful color. 
Perfectly Plum
Leave a statement at all your family get-togethers and date nights with plum-colored lipstick. Plum is a dark, rich purple shade with the perfect hint of red. The warm hues make this color the ideal match for individuals with warm or yellow undertones. For a jaw-dropping finish, pair your favorite plum-colored lipstick with gold or earth-tone colored jewelry.
Playful Purple 
Looking for a shade that's fun and out-of-the-box? Try Purple. This color is a fun way to add a playful yet mysterious touch to all of your winter makeup looks. To truly get the purple to pop, consider pairing it with a smokey grey or black eyeshadow look. Purple lipsticks tend to complement individuals with cool undertones and fair complexions. 
Go bold or go home with our Fierce Cream Lipstick. This stunning shade of purple is perfect for anyone who wants to make a statement with all your winter looks. 
Neutral Nude 
You can't go wrong with having at least one nude lipstick. A nude lip is a great way to keep things soft, simple, and subtle. The color expertly pairs with a range of makeup looks and is a great go-to lipstick to carry with you in your purse.
Trade in your shimmery summer nude for our Teddy Bear Cream Lipstick. This is a nude pink cream lipstick formulated with exotic oils, so your lips stay as soft as they are stunning. It's the perfect pop of color while running errands or grabbing a quick drink with friends after work. 
Very Berry
If you have a warmer skin tone but still want to play with blues and purples this winter: This is the perfect shade missing from your collection. Raspberry-colored lipstick is a warmer shade of purple that pairs perfectly with lighter and warmer complexions. The vibrant tone is a playful twist on traditional pinks and will complement your skin's warm undertones.
Turn heads and break necks with our Potion Cream Lipstick. This vibrant, berry color will keep all eyes on you throughout winter. The diamond shape maximizes application precision for easy glide-on color with just one swipe. 
Burgundy  
Get in the holiday spirit with a deep, dark, burgundy lip. This romantic shade is elegant and will provide a high-class touch to your favorite makeup looks. The best part? This color pairs perfectly with every skin tone and undertone. 
Our Magic Cream Stick is the lush, bold burgundy of your daydreams. The lightweight cream formula will keep your lips soft and smooth. The rich pigment is perfect for all-day wear.
Dark Brown
Obsessed with the 90s look? Winter is the time to jump on the trend. A dark brown is unique and easy to match with different eyeshadows and blushes. The chocolatey color is also easy to pair with different skin tones, outfits, and warm-neutral tones. Consider pairing dark brown lipstick with caramel-colored eye shadow for a complete, dimensional winter look. 
Discover Winter Shades From Lique Cosmetics 
Winter is the season for timeless colors, bold colors, and playful shades. 
However, color isn't the only thing you should look for with reliable lipstick. You should also prioritize hydrating ingredients to ensure your lips look their best during the harsh colder climates. 
At Lique Cosmetics, all our formulas are made with all-natural ingredients that leave your lips hydrated all day and nourish the delicate skin on your lips. 
Start exploring our collection today to experience the Lique Cosmetic difference.