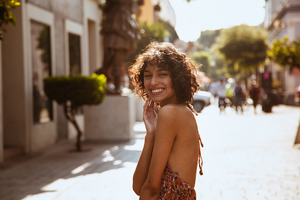 7 Tips to Keep Makeup Looking Fresh This Summer
Summer is almost here. As the temperatures start to rise and you're spending more time outside, you may feel like your makeup looks aren't lasting throughout the day. 
Don't worry, it's normal. Sometimes, you may even feel like the sun is literally melting your makeup right off your face. 
The good news is that there are small changes you can make to your makeup routine to help keep you looking fresh all summer long. 
Here are seven of our go-to tips:
Prep with a trusted primer 
Never underestimate the power of a primer! A primer preps the skin for all of your favorite makeup looks so you can easily apply your makeup with confidence, knowing it will last through the day. 
Our Face Primer Stick is oil-infused to help you set a luminous foundation for smoother makeup application. 
This lightweight, vegan formula is infused with botanical oils, cucumber extract, and green tea for hydration that breathes life into tired skin while minimizing redness, blurring pores, and evening-out skin tone. 
So even if you decide to go easy on the makeup, you'll always look your best.
Buy our Face Primer Stick on Amazon!
Go lightweight 
It never hurts to go lighter on the makeup during the warmer seasons. This is a great way to maintain an all-day, natural look and allow you to focus on your natural features. We recommend trading in your full coverage foundation for a tinted moisturizer with SPF. 
Another option is to try our BB Cream, it's a lightweight and breathable formula that's similar to a tinted moisturizer. 
Use a facial spray
Facial sprays leave your skin with a natural, beautiful glow. They are formulated to replenish your skin after a long day in the sun and are easy to carry around with you while you're on the go. All you need to do is give your skin a few spritzes, and you can be on your way! 
Our Ginger Mandarin Facial Spray is infused with natural ingredients. Its rejuvenating properties make it a great quick pick-me-up you can use in the morning, after workouts, or during any outdoor activities you have planned!
Buy Ginger Mandarin Facial Spray on Amazon!
Focus on your natural features
The no makeup, makeup look is in, and are there easy ways you can achieve this look by accentuating your natural beauty. A quick and easy way to do this is by focusing on the brows and the eyes. 
Just flushing your eyebrows with a little eyebrow gel and applying a little mascara can elevate your look. Our Duo Mascara & Brow Gel is easy to carry with you everywhere you go and can help you get a quick pick-me-up when you need one!
Buy Duo Mascara & Brow Gel on Amazon!
Play with gloss 
Consider playing with a lip gloss instead of those bright and bold lipsticks you like wearing during spring and winter. The formula is usually lightweight and adds a high-class fresh look to any of your makeup looks. It's simple yet leaves a statement. 
Our Devine Lip Gloss has a gorgeous pigment and is infused with vitamin E and jojoba oil. The color is subtle and looks radiant on any skin tone, so you can sport a shiny pout all summer. 
Shop Devine Lip Gloss on Amazon!
Keep it simple
When in doubt, keep things simple. You can't go wrong with a simple makeup routine. It provides a put-together yet natural look that everyone wants! We recommend trying our Brilliant Lip & Cheek Stick.
The no-touch applicator allows for quick & easy, buildable coverage for your active life on the go. So you can easily reapply and fix your makeup throughout the day to always look your best!
Shop Brilliant Lip & Cheek Stick on Amazon!
Lock it in
Once you have all of your makeup applied, you'll want to lock everything in with a setting spray. Setting sprays are designed to prevent any unwanted smudging or fading. If you're someone who has oily skin, these are a lifesaver and are sure to lock in your favorite makeup looks and leave you feeling and looking fresh throughout summer. 
Stay fresh all summer with Lique Cosmetics 
At Lique Cosmetics, we have a wide range of quality products at an affordable price. Our products are inspired by what we love most: natural ingredients and high-performing pigment. Shop our
wide selection today
to find ones that can help keep your makeup looking fresh all summer long.