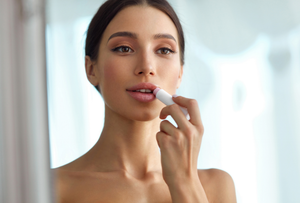 8 Makeup Hacks to Make Your Lips Look Bigger and Plump
Lips of all sizes are stunning, but there's nothing wrong with wanting a fuller smile. Putting thought into the lip color you choose and how you apply it makes a world of difference. Try these ridiculously easy makeup hacks to plump up your pout! 
But first...the right lip care routine is a must
Before you reach for that lip liner, take a closer look at your lip care routine. If your pucker needs a shot of hydration, you'll need to start from square one. 
First, say goodbye to any products that contain menthol, alcohols, and other no-go ingredients that sap moisture from your lips. The wrong toothpaste and chemical sunblock can also be the culprits of dry lips that just won't heal. 
Next, stock your makeup caddy with essential products for full, smooth lips: 
Lip scrubs

that are all-natural and have just the right ratio of moisture and grit 

Lip balms

with anti-aging ingredients and organic SPF, like jojoba oil (which gets bonus points for natural sun protection!) 

Silk washcloths

if your skin quickly gets blotchy when massaged or cleansed too harshly
The rule of thumb: regular exfoliation keeps your lips free of imperfections. If you have a fresh, smooth canvas to work with, you can pull off any style of lipstick. 
8 fool-proof makeup tricks for voluminous lips  
Paint the center of your pout with a nude shade 
Nude lipsticks are super versatile. They can even create the illusion of fullness when applied over a darker shade. Using your favorite nude lipstick for summer, like [SHADE NAME], draw a line down the center of your lips and gently blend out the color. 
(Don't have a nude lipstick on hand? White eyeshadow will do the trick, but only for a beat!) 
Dark lip color draws attention to a lack of fullness  
Dark lipstick and lip gloss radiate vampy glamor. But if you want extra-full lips, don't go for Gothic reds or deep shades of purple. 
No matter the time of year, lighter lip colors can look luxurious and just as attention-grabbing. To stand out this summer, apply a vibrant coral lip balm or a flowery pink gloss. 
Layer a shiny, shimmery gloss over your lipstick 
High-shine lip glosses made with essential oils keep your lips smooth and supple, which boosts volume by default. It also picks up the light and makes your lips look even plumper! 
For an extra shot of sparkle, pair your lip gloss with a Sparkly Lip Topper in Unicorn (lavender is a trending shade for spring/summer 2021!). 
Dust your favorite bronzer under your bottom lip 
Contouring is less intense in 2021, but that doesn't mean you can't use your go-to bronzer or an earthy blush to make your pout pop. Try an angled eyeshadow brush to dust a few swipes of your bronzer or blush directly underneath your bottom lip. (Remember to blend!)
Line (and fill) your lips with a creamy lip liner
Use a lip liner one or two shades darker than your natural lip color, paying extra attention to filling in the outer corners. If you're wearing lipstick, fill in your lips to make the shade last. For reds, dark oranges, and other bold shades, you can draw outside the lines.
Try out the classic ombre lip look
The ombre lip will never fall out of style, and it's perfect for faking extra volume. This look can be played up with punk rock red tones or softened with sweet shades of pink. Lique's ombre lipstick is easy to glide on--no mess, no do-overs.

Add a few layers of lip balm over your lipstick
Here's a secret: wearing lip balm underneath lipstick can make it harder to layer on color. But applying a non-toxic lip balm over lipstick, especially matte shades, adds more dimension to your pout. Keep your lip color intact and banish dehydration--a good lip balm does it all.