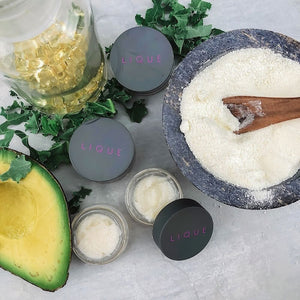 All About Our Favorite Natural Skincare Ingredients
At Lique Cosmetics, we specialize in skin. Maybe we're a little more focused on your lips, but regardless, we are always searching for key natural skincare ingredients that will promote the healthiest skin possible. 
We have a love for natural, vegan, and cruelty-free ingredients, and oh, honey, do we play favorites. Some of our absolute favorite skincare ingredients are
Jojoba Oil, Cocoa Butter, Avocado Oil, Honey
, and
Shea Butter.
Why are these ingredients so important in skincare, you ask?
These butters and oils each have specific qualities that make them stars in our eyes. 
Hard to pronounce but easy to understand, Jojoba Oil is a humectant, which is a fancy word for the oil's ability to form a protective layer over the skin, keeping moisture IN and dryness OUT! 
This multitasking oil also contains Vitamin E, an antioxidant that helps to block environmental stressors from entering our skin. 
This is important because these toxins might not seem like a big deal on a daily basis, but over time, they lead to dullness and promote wrinkles.
Now that winter has arrived, Cocoa Butter is automatically higher on our list of favorite ingredients. 
Cocoa Butter is actually the fat extracted from cocoa beans! Because it's so rich and thick, it coats the skin to form a barrier of moisture jam-packed with vitamins A, C, and E, certain to perform miracles. 
One of the many miracles these vitamins perform is cell regeneration, which means they speed up the process of restoring new skin cells when old ones die off. 
This process is essential to keeping skin looking dewy, plump, and youthfully radiant. 
Now
do you see why we're such big fans? 
Enough about barriers, we need to talk about products that we love due to their fast absorption properties. 
This oil seeps into the pores very quickly, nourishing the skin (body or lips) to create a softer texture. 
Avocado oil also contains Sterolin, a substance that aids in healing, which is essential for cracked winter skin. 
Don't be fooled by honey's sweetness – this ingredient provides more benefits than meets the eye. This natural ingredient has been used for centuries because it has the power to not only heal wounds but also to prevent and treat infections. 
This is a direct result of honey's antifungal properties. It also helps to form a thick barrier to replenish hydration. 
That's why we love incorporating it into our
lip care
– healing and treating chapped lips while replenishing moisture is the perfect duo when your skin is dry and damaged. 
We absolutely love seeing this ingredient within skincare products because it is extremely rich in Vitamin A.  
Vitamin A is an antioxidant that can treat a whole host of skin conditions such as UV damage, sunburn, wrinkles, and even blemishes. 
Did you know that Shea Butter can also improve your circulation? Increasing blood flow throughout the body – or the lips – helps to plump the area, promote color pigments to the area, smoothes, and minimizes the appearance of imperfections such as cellulite or stretch marks. 
This makes Shea Butter almost like an Instagram filter IRL. 
Whether we're talking about skincare or lip care, these ingredients steal the show for us in both categories. 
We love the deep hydration properties of  Jojoba Oil and Cocoa Butter, the healing abilities of Honey and Shea Butter, and the deep absorption capabilities of Avocado Oil.  
The best part is that these ingredients are
natural
– they can effectively satisfy the skin on our bodies while being gentle enough to be used on our lips! If you ask us, that's all we can hope for.