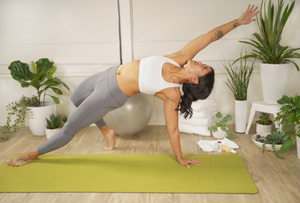 The pandemic has changed the way we look at everything, even beauty. 
We've spent the past year going with a more natural look and trying to avoid touching our faces. 
As things are slowly returning "normal," we are all trying to readjust while figuring out a beauty routine that is natural, healthy, and efficient.
To help ease this transition, we are proud to announce the launch of Lique Active Beauty, a line of vegan, cruelty-free, natural cosmetics and skin care products created by a team of strong women. 
Here at Lique, we've established ourselves as a brand by focusing on all things related to lip care. However, we've recognized that the market has lacked a clean and focused beauty routine infused with hardworking, natural ingredients, all with an affordable price tag. 
So we developed Lique Active to help keep up with your active lifestyle, whether you are a mom on the go, a boss babe, a nurse, or a yogi—or some combination thereof. 
The products can be applied quickly without using your fingers or brushes, making a 5-minute beauty routine a reality. All of the Lique Active products are designed to enhance natural, beautiful features, with formulations that are lightweight and hydrating. 
The Lique Active collection includes six key products:
Facial spray

Facial primer

BB cream

Duo highlighter

Lip/cheek balm

Mascara/brow duo
These products can be purchased individually or all together as a cost-saving bundle, and all products are designed to be applied hands-free and on the go. The entire collection is formulated to work together, for a simpler get-ready routine!
So what does a Lique Active routine look like? 
First, for flawless skin, we have to do the prep work! 
Infused Face Primer Stick
The Face Primer Stick, which is infused with botanical oils, cucumber extract, and green tea, works like a blurring filter for your pores and minimizes redness. Applying the product feels like an act of self-care, and it sets the stage for the next step: BB cream.
Hydrating BB Cream
The Lique Active BB Cream is one of our collection's stars—it boasts a super lightweight formulation that includes hydrating ingredients to leave your skin soft and dewy. 
Instead of a cream, it's actually in a solid stick form that is easy to use on the go, particularly when applying before or after a workout. 
The Lique Active BB Cream comes in five shades to suit all complexion types. 
Influencers are raving about the ease of application and how stunning the BB Cream makes their skin look in seconds flat.
Buttery Lip & Cheek Sticks
Three of the Lique Active products are designed to work overtime, serving dual purposes. The Lip & Cheek Stick, which comes in four universally flattering shades, allows for a natural-looking flush to your face in seconds. 
The buttery vegan formula contains shea butter, rosehip, and camellia seed oils and the coverage is buildable, perfect for transitioning from running errands to a date night. 
Duo Highlighter & Eye Brightener
Available in both Bronze and Quartz tones, the Duo Highlighter & Eye Brightener helps to cover dark circles and brighten up the inner corners of your eyes. 
The formula is infused with cooling menthol which will help us not only look more awake but feel it. 
Nourishing Mascara & Brow Gel
To further brighten up the eye area, the Duo Mascara & Brow Gel nourishes both brows and lashes with a lightweight vegan formula. 
It's intended to be applied in layers for buildable length, volume, and shape. 
The two-in-one applicator has formulations for both lashes and brows, which saves space in your makeup bag.
Facial Spray
Finally, sometimes we all need a refresh. The Lique Active Ginger Mandarin Facial Spray revives skin after a long day at work or a workout. Ginger and hibiscus help cool the skin and restore a healthy glow. 
Throw this spray bottle in the bag and help combat the end of summer icky-ness. 
The packaging of Lique Active products has a clean look to reflect the clean ingredients within, and they were designed with portability in mind. 
The colors were developed to flatter all skin tones and achieve high-quality pigment. 
And best of all? 
Lique Active products are affordable, costing $16 and less. Better yet, the entire Lique Active line is available for purchase for only $54 on LiqueCosmetics.com.  
And they are available at a wide range of retailers, including Meijer.com, Target.com, and LiqueCosmetics.com. 
Ready to clean up and simplify your beauty routine? Shop the Lique Active collection online or in person at your local retailer.