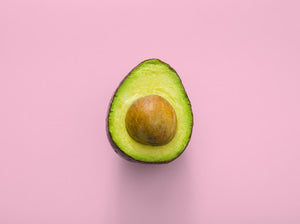 Avocado Oil: How to Include It in Your Beauty Routine
Avocado oil is a healthy fat that's jam-packed with vitamins, antioxidants, essential fatty acids, and minerals. That's why it's the go-to cooking oil of choice for the kitchen. 
However, did you know that your skin can benefit from those vitamins and minerals as well? All the nutritional components can have lifelong benefits for your skin and help you maintain your youthful glow and reach your skincare goals.
Why avocado oil is a great beauty care ingredient 
Avocado oil is a common ingredient found in a wide range of beauty, hair, and skincare products.
Here are a few benefits you can look forward to when you incorporate them into your routine.
Antioxidants 
Avocado oil contains vitamins A, D, and E, all must-have antioxidants. These antioxidants are essential to combating free radicals and helping you preserve your skin's natural beauty.
Free radicals can cause illness, wrinkles, fine lines, and unwanted signs of aging. The antioxidants also help protect against skin damage and create a barrier to help shield your skin from ultraviolet radiation.
Moisturizing properties 
Avocado oil is a moisturizing emollient that contains vitamin E, potassium, lecithin, and other nourishing nutrients. It's a fast absorbing oil that works to quickly nourish your skin and lips and leave you with softer, supple skin. 
Speed up the wound healing process
The sterolin, essential fatty acids, and oleic acids inside avocado oil help speed up the healing process. This is why avocado oil is a common ingredient in lip balm and chapstick. Sterolin helps heal chapped skin, calm itchy skin, and replenish dry skin that needs extra TLC.
Ways to incorporate avocado oil in your beauty routine
Ready to start experiencing the benefits firsthand? Here's how you can do it:
Face mask 
An avocado oil face mask is a great way to fully experience the benefits of this oil. You can even DIY your own from your home. All you'll need is to mash up half an avocado and add a teaspoon of avocado oil. Let the mixture sit on your face for 20 minutes, then remove it with warm water. 
Lip scrub 
Lip scrubs are similar to sugar scrubs, but they focus mainly on the look and feel of your luscious lips! Since avocado oil has healing properties, it's a key ingredient in lip scrubs and will leave your lips softer than ever. 
Our Strawberry Lip Scrub contains avocado oil and is infused with natural sugars to provide a spa-like experience. The intense hydration properties of avocado oil leave you feeling nourished. 
Shop our Strawberry Lip Scrub on Amazon!
Makeup remover
You can use avocado oil as a natural makeup remover. All you need to do is add the oil to a cotton pad and allow it to melt your makeup off your face. After cleansing, you can wash your face with warm water and continue with the rest of your skincare routine.
Bath time oil 
Adding a few extra drops of avocado oil into your bath can leave your skin feeling soft and supple! It's also a great ingredient in warm bath water that will prevent your skin from drying out.
Sugar scrub
Sugar scrub is an easy-to-make exfoliating scrub that allows you to buff away dead skin cells and show off your beautiful skin. After exfoliating, you can use an avocado oil moisturizer to replenish the natural oils in your skin and leave your skin feeling soft and smooth.
Upgrade your beauty routine with natural ingredients
If you want to do more with your beauty products, you've come to the right place. At Lique Cosmetics, we value natural ingredients and want to help you experience the differences with our beauty care products. Feel free to shop by ingredient to
explore the different benefits of natural ingredients today
.