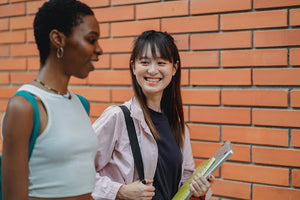 Back-To-School Makeup Essentials
Class is back in session! 
It's time to perfect your morning routine, shop for all your back-to-school necessities, and head to campus! 
As you head to the store to grab some last-minute essentials, don't forget to take a walk down the makeup aisle! Now is the perfect time to stock up on your favorite items, try new products, and perfect your back-to-school makeup routine. 
Not sure where to start? We can help!
Here are all the items you'll need for your back-to-school makeup routine:
A hydrating facial spray
Don't let all of those late-night study sessions leave your skin feeling dehydrated. With a facial spray by your side, you can revive your skin and leave it looking and feeling its absolute best. 
A few sprays before you head to the library or your next class will leave your skin feeling hydrated and revived. 
Whether you're just leaving the gym or headed to the library, with our Ginger Mandarin Facial Spray, you never need to worry. This facial spray is infused with ginger and hibiscus to help restore your skin to a healthy glow. 
You can easily keep it in your bag or purse as an on-the-go refresher with a rejuvenating mandarin scent. Your skin will thank us later!
Shop our Ginger Mandarin Facial Spray on Amazon!
A trusted primer 
If you want your go-to makeup looks to last throughout the school day, so you can look your best on your way to a happy hour afterward, you'll need a primer. As a rule of thumb, don't ever skip on the primer! A primer is a must-have that will ensure foundation or BB cream is long-lasting and luminous. 
Our Face Primer Stick leaves your skin better than before. This lightweight and vegan formula contains cucumber extract and green tea, two nourishing ingredients your skin will love. It's designed to breathe life into tired skin while minimizing redness, blurring pores, and evening out skin tone.
Shop our Face Primer on Amazon!
Try out a BB cream 
A BB cream is your new best friend. It's lightweight and easy to wear, and unlike traditional foundations, it provides minimal coverage while reducing the appearance of fine lines, so your natural beauty can glow on campus. 
Our BB Creams provides breathable coverage and comfortable all-day wear, so you don't need to worry about any makeup mishaps in the classroom. 
It features a no-touch applicator and easy glide-on coverage, making it perfect for that 5-minute makeup look you need to master if you don't want to be late to class!
Play with mascara and brow gel
Eyelashes and brows are essential. A brow and mascara gel is the perfect tool to help you achieve that clean girl aesthetic everyone is obsessed with this school year! It's an easy way to enhance your favorite features and give yourself an extra boost of confidence. 
Our Duo Mascara & Brow Gel is perfect for the person always on the go. It's easy to throw into your school bag and keep with you if you need an extra boost of confidence. It comes in a convenient 2-in-1 applicator and contains and helps buildable length, volume, and shape.
Shop our Mascara & Brow Gel on Amazon!
Have a lip balm on hand
Whether you're headed to a football game this weekend or on the way to the library to grab a book: You'll always want a lip balm on hand to help you keep your lips plump and luscious. Lip balm helps combat dryness and flaky skin while helping you achieve kissable lips. 
With our Lip Butter by your side, you can keep your lips looking and feeling great everywhere you go. This buttery formula contains honey and aloe vera, two nutrient-rich ingredients that help boost your complexion and combat dryness. 
Shop our Lip Butter on Amazon!
Your one-stop shop for back-to-school makeup essentials
It can be easy to skip out on your makeup routine, especially when you're adjusting to a new schedule. However, with our Active Lique Cosmetics line, there's no need to worry! 
Our active line was designed for the girls who are always on the go. Our high-quality formulas will leave you looking and feeling good whenever on campus. 
The formulas only contain the best, nutrient-rich, and natural ingredients and are designed to give you that perfect no-makeup makeup look that will help you stand out from the rest.