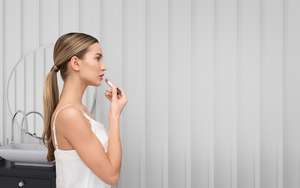 Beauty Mistakes to Avoid this Winter
It's the dead of winter, and baby it's cold out there.
Besides having to sport layers of clothing, drink more hot liquids to keep toasty, your skin also needs some TLC.
Winter can wreak havoc on our beauty – be it drying out our hair and nails – as well as making us look dull and tired. 
Caring for yourself during this time is easy if you have a regular beauty routine and of course, the right products to keep your skin in tip-top shape.
Here are some of the things you need to keep in mind during the winter months in terms of your beauty regimen:
Drink Plenty of Water
Even though you might not be as thirsty as you are in the summer, don't stop drinking the recommended eight glasses of water to stay hydrated. Water is a key factor in keeping your skin, lips, and hair hydrated.
Caked On
In the case of makeup foundation, BB creams, and powder, more is not always better especially during the winter season. 
If you use too much on dry skin, it can bring even more attention to dry skin. Don't use tons base and powder, and do exfoliate and moisturize.
Cut Down on Hot showers
While you may be inclined to jump into a scalding hot shower when it's chilly outside to warm up, try to avoid a hot shower. Heat can lead to removing the natural layer of oil on your skin and drying it out. 
Instead, use lukewarm water and start turning the hot faucet tap down every 10 seconds before you get out of the shower to get your skin acclimated to the room temperature.
Do Exfoliate Often
Do exfoliate a few times a week to get rid of dead cells and let newer skin shine through. Also, don't forget to use moisturizing creams to penetrate deep into the skin. 
Waterproof Eye Makeup
When it is cold and windy your eyes can water, leaving streaming tears as well as drying out eyes. 
Do make sure your eye makeup – mascara, shadows, and eyeliner are waterproof or made of natural ingredients to keep tears at bay.
Use Sunscreen
Not just for summer, sunscreen should always be used year-round under foundation. 
Why? 
Even on a cloudy day, the sun's rays can break through and shine on your face and body. Use a moisturizing cream that is also a sunblock, with an SPF of 30 or higher.
Self-tanners
It's OK to add a bit of color to your skin during these months, but don't go overboard, and do make sure it has a moisturizer in it or it will dry out your skin.
Foot Care
Since you've ditched the open-toed slingbacks and wedge sandals for winter boots, that means dry skin and cracked heels. Continue with your pedicure routine and don't forget to moisturize your feet when you get out of the shower.
Pat Skin After Bathing
When you step out of a lukewarm bubble bath, pat dry your face and body. Let the water evaporate and smooth on a layer of hydrating serum or moisturizer to lock in more moisture.
Healthy Hair
Use the winter months to do a hair and face mask to lock in moisturizer and keep locks, and tresses looking beautiful.
Hands and Nails
Cuticles, nails, and hands can also get very dry, so be sure you are wearing gloves, or mittens if you are in a very cold area. Rub in lotions and other moisturizers and/or oils to keep cuticles and nails moisturized. 
Protect Lips
Use Chapstick, Vaseline, and gloss or lip balm to keep your pout supple and to avoid flaky lips.
Face Wash
Skip foamy, soap-based cleansers that can strip and dry out the skin. Instead, opt for gentler creamy or milky ones during these cooler months.
Use Moisturizing Cheek, Lip, and All-over Color
Try Lique Cosmetics resilient lip and cheek sticks to add color to hydrate cheeks and lips as opposed to powdered blushes and matte lipsticks which can dry out lips and skin.
Skip the Winter Blues
Lique Cosmetics products are created with rosehip oil, jojoba oil, and many other top ingredients to help you avoid beauty mistakes this season.
When all is said and done if you hydrate, moisturize, and use the correct beauty products during the colder months, you will avoid getting the winter blues and help skin appear radiant.