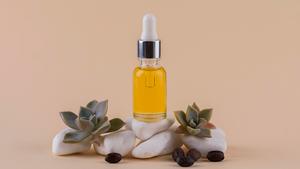 Benefits of Jojoba Oil in Your Beauty Routine
Jojoba oil is derived from the seeds of the jojoba plant. It's a plant-based ingredient that mimics the naturally occurring oils on your skin, which is why it's the must-have hydrating ingredient for many beauty products. 
You may run into lip balms, moisturizers, hair care products, and other beauty essentials containing jojoba oil. We're here to tell you why you should always choose those items over others if you want to get more out of your beauty routine.
Let's dive in:
The benefits of Jojoba oil 
Locks in moisture 
Jojoba oil is considered an emollient and it contains oleic, lignoceric, and gondoic acid. With these fatty acids and hydrating components, jojoba oil works to soften and smooth your complexion and protect the skin barrier.
That's why it's also an essential ingredient in all of your favorite lip care essentials. With the help of this oil, your lip balm or butter can help heal dry skin and improve chapped lips.
Jam-packed with antioxidants 
In its most natural form, jojoba oil contains vitamin E, a potent antioxidant. Antioxidants help fight off oxidative stress caused by free radicals and help us maintain our natural beauty.
Anti-inflammatory properties 
If you're someone who has eczema, rosacea, or sensitive skin: Jojoba oil will be your new best friend. The anti-inflammatory properties make it great for keeping the skin calm and reducing redness.
Non-comedogenic 
This oil is non-comedogenic, so it won't build up on your skin or clog your pores. This is particularly important for individuals that have acne-prone skin or oily skin. 
Helps keep sebum production under control 
Since jojoba oil is similar to the natural sebum our bodies create, it can also help regulate sebum control. The jojoba oil will signal your body to slow down sebum products, keeping your skin from looking oily and preventing acne from clogging your pores. 
Start incorporating Jojoba oil into your lip care routine today
Sold on the benefits of jojoba oil? We knew you would be. Here are four ways your lips can start benefiting today!
Try out a trusted lip plumper
Lip plumpers help nourish the delicate skin on your lips and provide you with a fuller look, ready to be dressed up in your favorite color!
Our Clear Lip Plumper contains soothing vitamin E and Jojoba oil to help hydrate your lips and is paired with peppermint oil to give you a lip-puckering finish!
Shop our Lip Plumper on Amazon!
Take on your day with a lip balm
Everyone needs a go-to lip balm they can carry on the go. Our Vanilla Lip Balm is infused with coconut and jojoba oil to lock in moisture and help you prep your pout.
Shop our Vanilla Lip Balm on Amazon!
Get an extra hydration boost from a lip mask
Do your lips need a little extra TLC? It may be a sign you should try a lip mask. Our Blushing Lip Mask is formulated to help soothe dry, cracked lips and leave you with kissable lips. The formula also has a slight color tint, so you can start and end your lip care routine with this one product!
Shop our Blushing Lip Mask on Amazon!
Take on the day in type with a Lip Gloss
Looking for the perfect lip gloss for everyday wear? You've met your match. 
Our Catfight Lip Gloss is a gorgeous high-pigmented, rich formula. It's the perfect complement for all your makeup looks that will help you elevate your style and give you a flawless finish.
Shop our Catfight Lip Gloss on Amazon!
Shop our collection of Lique Cosmetics beauty products 
We'll be honest: You deserve better ingredients and beauty care products. When you take the time to consider the ingredients and find products with high-end formulas, your lips, skin, and body will thank you! 
At Lique Cosmetics, we take pride in using the best natural ingredients in our beauty products, so you can get more out of your daily beauty routine. 
Shop our collection of lip care products today to get started.