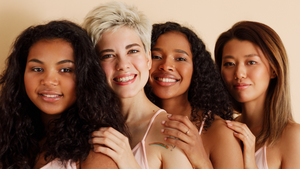 Celebrate Diversity: Our Inclusive Range of Lip Products for Every Skin Tone
Diversity is at the heart of beauty, and at Lique Cosmetics, we believe that everyone deserves to feel empowered and confident in their own skin. Beauty knows no boundaries, and that's why we have curated an inclusive range of lip products to celebrate the uniqueness of every individual. In this blog post, we're excited to showcase Lique's commitment to diversity by offering lip colors that complement every skin tone. Embrace your individuality and discover the perfect lip shade that celebrates the beauty of you.
Embracing All Skin Tones: The Essence of Inclusivity
Inclusivity is not just a buzzword at Lique Cosmetics; it's a fundamental value that guides everything we do. We understand the importance of representation and the impact it has on beauty standards. Our diverse range of lip products is a reflection of our dedication to celebrate all skin tones, ensuring that every individual can find a lip color that suits their unique beauty.
The Power of Nude: Versatility for All
Nude lip colors are a beauty staple, and at Lique, we've curated a versatile collection of nude shades to cater to a wide range of skin tones. From light to deep nudes, our lip products enhance your natural lip color and complement your complexion, providing a polished and sophisticated look for any occasion.
Recommended Lique Cosmetics Products:
Chatter Box Matte Liquid Lipstick
Double Shot Matte Liquid Lipstick
Enchanted Moisturizing Cream Lipstick
Radiant Reds: A Bold Choice for Everyone
Red lips are a symbol of confidence and allure. At Lique Cosmetics, our collection of red lip products is designed to flatter every skin tone. Whether you have a fair complexion or a deep undertone, our diverse range of reds empowers you to make a bold statement and embrace your individuality with elegance.
Recommended Lique Cosmetics Products:
Crush Moisturizing Cream Lipstick
Captivating Corals: A Splash of Warmth
For those seeking a vibrant and warm lip color, corals are the go-to choice. Lique's selection of coral shades complements a variety of skin tones, bringing a touch of summer glow to your lips and enhancing your natural radiance.
Recommended Lique Cosmetics Products:
Daring Moisturizing Cream Lipstick
Pretty in Pink: Embrace Your Femininity
Pink lips exude femininity and grace. Whether you prefer soft pastel pinks or bold fuchsia shades, Lique Cosmetics offers a range of pink lip products that cater to diverse skin tones. Embrace your feminine side and choose a pink lip color that speaks to your unique personality.
Recommended Lique Cosmetics Products:
Lover Moisturizing Cream Lipstick
Potion Moisturizing Cream Lipstick
Kitten Moisturizing Cream Lipstick
Vibrant Berry Hues: A Flirty Twist
Berry lip colors are the epitome of flirty and fun. At Lique Cosmetics, we've carefully selected berry shades that complement both cool and warm skin tones, ensuring everyone can rock these playful hues with confidence.
Recommended Lique Cosmetics Products:
Stunning Moisturizing Cream Lipstick
Magic Moisturizing Cream Lipstick
Embracing Cultural Diversity: The Essence of Lique's Vision
Lique Cosmetics embraces cultural diversity and celebrates beauty in all its forms. We understand that different cultures have unique beauty traditions and preferences, and we aim to offer lip products that resonate with people from all walks of life. Our inclusive range of lip colors is a testament to our vision of beauty without boundaries.
Conclusion
Beauty is a celebration of diversity, and at Lique Cosmetics, we are committed to empowering individuals to embrace their uniqueness. Our inclusive range of lip products caters to every skin tone, ensuring that everyone can find their perfect lip shade that complements their natural beauty.
We believe that beauty is not defined by one standard but is a collection of diverse expressions that should be cherished and celebrated. Embrace your individuality, express yourself with confidence, and celebrate the diversity that makes you uniquely beautiful with Lique Cosmetics' inclusive range of lip products. Empower yourself to shine, no matter your skin tone, and be a part of a beauty movement that celebrates diversity with pride.