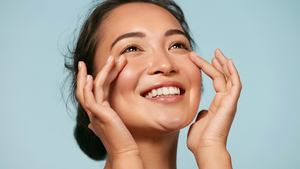 Cool, Warm, Neutral Undertones: How to Find Your Skins Undertone
If you didn't know: There's much more to your skin than what meets the eye! No, we aren't talking about freckles or imperfections. We're referring to your undertone. Your undertone is different from your skin tone. Typically, your skin tone refers to the depth of the color of your skin. It can range from very deep to very fair. However, undertones focus on the shade that's within that color. 
Here's what you need to know:
What's the difference between skin tone and undertone?
Your skin tone is what you see in the mirror and in photos. Whether it's fair, light, medium, dark, or very deep: It's the color that makes you, you! 
Your undertone takes this one step further. It's the underlying color within your skin tone. It's the colors your skin reflects and is commonly broken down into three categories: cool, warm, and neutral. 
Here's a breakdown of the colors you find in these undertones:
Warm undertones:

Yellow, peach, or golden

Cool undertones:

Pink, blue, purple 

Neutral undertones:

A mix of both warm and cool undertones
You may be wondering: Why are undertones so important? 
Understanding your undertone will allow you to choose the perfect foundation and concealer identical to your skin. It will also help you find the perfect shade of blush, lipstick, and eye shadow. Doesn't that sound great?
How to find my undertone 
Grab a makeup mirror and stand in front of a window with a ton of natural light. Look for hints of pink or peach in your skin or any other pops of color. If you aren't able to tell just by looking, no worries.
Here are a few other things you can do:
Look at your veins 
If your veins appear blue or purple, you have a cool undertone. If they look closer to green, you have a warm undertone. Can't exactly tell? You probably have a neutral undertone.
Jewelry color 
If you think silver goes with your natural complexion, you have a cool undertone. If gold complements your skin tone best, you most likely have a warm undertone. If you can't tell the difference or love the way both styles look: you probably have a neutral undertone.
How you look in white
Go into your closet and find a white shirt or dress. Hold the shirt or dress up to your face in natural light or close to a window. If your skin looks rosy next to white, you have cool-toned skin. If your face looks yellow, you are warm-toned. If you can't tell, you're most likely neutral. 
Enhance your makeup routine with Lique Cosmetics
No matter what your undertone is, we have what you need! Once you discover your skin's natural undertone, you can expertly choose colors and products that complement your natural beauty.
Warm undertones
If you have a warm undertone, you'll want to look for rich reds and oranges to enhance your natural glow. You'll want to look for a concealer with a yellow tone, so you can easily combine it with a bronzer or blush. 
Here are our top picks:
Cool undertones 
With cool undertones, you'll want to find rosy pinks, blue-based reds, and purples to get the most out of your natural undertones. When it comes to foundation, look for something with a pink undertone. 
Here are our top picks:
Neutral undertones 
Neutral is a happy middle ground between warm and cool. Meaning you have more opportunities to play with different colors because everything compliments your skin tone. To get the most out of your undertone, play with peach, mauve, pink, or reds. For foundation, aim for one with a peach undertone. 
Here are our top picks:
At Lique Cosmetics, we have everything you need for lip care, prep, and color. We can help you find natural choices that expertly complement your undertone and stunningly complement your complexion.