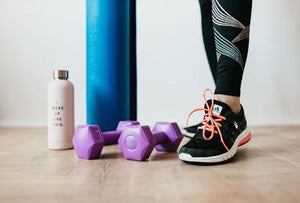 Do's and Don'ts of Wearing Makeup To The Gym
We've all worn a full face of makeup to the gym at least once, whether we were sneaking in a class after work, or reluctant to go bare-faced in front of a trainer. The good news is that if you love makeup, you don't have to give it up to have a fantastic workout. Follow these do's and don'ts to feel and look your best when you're breaking a sweat. 
DON'T: Layer on the foundation
This one might seem like a no-brainer, but heavy makeup at the gym? Be prepared for breakouts. It's not just wearing makeup that spells disaster for your pores, though. Floor mats, gym towels, and even accidentally touching your own face, can all bring bad bacteria into contact with your skin, and that bacteria clings to makeup.
DO: Wear a lightweight BB cream
If you want gorgeous, glowing skin at the gym without pesky spots and imperfections, a BB cream is your best bet. It's even lighter than a CC cream, which is one step below a moderate coverage foundation. BB creams hide every little imperfection that sweating during a workout tends to play up. 
DON'T: Use an oil-based moisturizer 
Even if natural oils are your moisturizer of choice, they're not the best fit for heavy workout sessions at the gym. If you feel like your skin looks greasier than usual when you get really into that lifting session, it's not just your imagination: Heat and humidity trigger our skin to produce more oil. 
DO: Try a gel-based moisturizer 
Gel-based moisturizers were made for gym days. They have just enough oomph to fight dryness and irritation from sweating around your neck, forehead, and hairline, but they're lightweight enough to rarely cause breakouts. Try K- and J-Beauty brands: Water- and gel-based moisturizers are popular staples! 
DON'T: Wear foundation on its own
You might be able to get away with dabbing on foundation using your fingertips or Beauty Blender in a hurry. But if you're about to hit the treadmill, take the extra time to use a makeup routine specifically for fitness. Wearing foundation on its own equals melting makeup in minutes! 
DO: Apply a cooling primer first
If you love wearing makeup during your workouts, primer is a must. Not only does primer make your skin tone and texture more even, but it also prevents your makeup from slipping. It's even more important for non-matte formulas. We crafted our primer with cucumber and green tea to soothe inflammation and fight puffiness. 
DON'T: Go wild with the cover-up
It's tricky to get cover-up to stay in place, especially if your foundation isn't set with spray or powder. Cover-up sits on top of the skin, so any sweat that drips down your hairline can mess with coverage. Trying to cover your dark circles with the same amount of product in your normal beauty routine? Not the best idea. 
DO: Hide problem areas with a light hand 
Using a creamy and nourishing cover-up, dab only a small amount of product onto problem areas that a lightweight foundation won't cover. Think the innermost corners of your eyes, blemishes, and fresh acne scars. 
DON'T: Do a full smoky eye
Even if you're not prone to sweating, heavy eye makeup can smudge just from high levels of humidity. Eyeliner on your wet line, tons of mascara, and dark-colored eyeshadow are perfect for evening glamor, not going full-throttle in your workout class. 
DO: Use a touch of mascara and brow gel
The pandemic brought "I'm not wearing makeup" makeup back. Apply a touch of mascara on the outer corners of your lashes, grab your gym bag, and go! Draw more attention to the natural beauty of your eyes by sculpting your brows. It's a simple but fabulous two-in-one to give your gym look a glamorous edge. 
DON'T: Wear regular lipstick
Lipstick doesn't bode well for workout days. It's hard enough to keep lipstick from smudging and bleeding. Add sweat and humidity to the mix and there goes your look! Even matte lipstick can make your pout feel stiff and dry. 
DO: Dab on a lip and cheek stain
Color for lips and cheeks is lightweight and longer-lasting — and when it wears off, it leaves behind a healthy-looking touch of color sans blotchiness. Best of all, using a product packed with shea butter, camellia oil, and rosehip means your lips stay healthy and smooth, no matter how much you sweat!