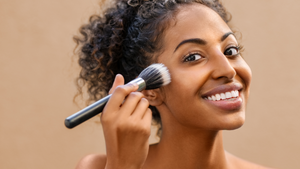 Elevate Your Everyday Look: Our Guide to Effortless Natural Makeup
In today's fast-paced world, finding time for an intricate makeup routine can be challenging. However, the good news is that you don't need elaborate techniques to achieve a stunning everyday look. Embracing a natural makeup style not only enhances your features but also helps you feel confident in your skin. In this blog post, we'll introduce you to Lique and guide you through a simple yet effective natural makeup routine that will elevate your everyday look effortlessly.
Prepping the Canvas: Cleanse and Moisturize
Before diving into the makeup application, it's essential to start with a clean canvas. Begin by cleansing your face thoroughly to remove any dirt, oil, or leftover makeup. After cleansing, apply a lightweight moisturizer suitable for your skin type. 
Achieve a Flawless Base: Foundation or BB Cream
For a natural look, opt for a lightweight foundation or a BB cream that matches your skin tone. These products even out your skin tone without feeling heavy or cakey. Look for a cream that provides buildable coverage while allowing your natural beauty to shine through.
Recommended Lique Cosmetics Products:
Lique Active Dont Sweat it BB Cream
Brighten Up: Concealer
Concealer is a magical tool to hide any blemishes, dark circles, or redness. Choose a shade that matches your foundation or go one shade lighter for a brightening effect. Find a concealer with a creamy texture, making it easy to blend into the skin for a seamless finish.
Frame Your Eyes: Mascara and Brow Pencil
Enhance your eyes by framing them with well-defined brows and voluminous lashes. Use an eyebrow gel to clean and shape your brows naturally.
For long, luscious lashes, coat them with a layer of volumizing mascara. The volumizing  formula is designed to lift and separate each lash, giving you a wide-eyed, natural look.
Add a Touch of Color: Blush and Lipstick
A pop of color on your cheeks and lips can instantly brighten your face. Opt for a cream blush that blends effortlessly into your skin, providing a healthy, natural flush. Lique Cosmetics' cream blushes are lightweight and long-lasting, giving you a natural glow all day.
When it comes to lipstick, choose shades close to your natural lip color. Lique offers a stunning range of lip products, from hydrating lipsticks to velvety matte lip creams, allowing you to find the perfect match for your everyday look.
Recommended Lique Cosmetics Products:
Lique Moisturizing Cream Lipstick
Set It in Place: Setting Spray
To ensure your natural makeup stays put throughout the day, finish your routine with a spritz of setting spray. This step helps lock in your makeup, keeping it fresh and flawless for hours. Lique setting spray is infused with skin-loving ingredients that hydrate and protect your skin while maintaining your makeup's longevity.
Recommended Lique Cosmetics Product:
Lique Active Ginger Mandarin Facial Spray
Conclusion
Effortless natural makeup doesn't have to be complicated. With the right products and a few simple steps, you can elevate your everyday look and let your natural beauty shine through. Lique offers a wide range of high-quality products that enhance your features while taking care of your skin. Embrace the natural makeup trend and enjoy a radiant, confident glow with Lique's makeup essentials. Remember, the key is to enhance, not overpower, your natural beauty. So, let your true self shine through with Lique!