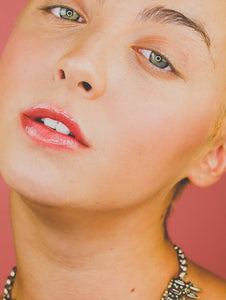 Four Lip Products For Soft, Kissable Lips By Valentine's Day
Picture it: you're enjoying a date with your Valentine when all of the sudden, your smile starts throbbing. Your lips are so thirsty for moisture that they cracked! 
The last thing you need is for a special moment with your sweetheart to get interrupted by a painful slip-up. 
But with the right products, you can have plump, kissable lips for any occasion. Keep reading for tips to get soft, luscious lips for Valentine's Day.
Why Are My Lips So Dry?                   
Rough, flaky lips say a lot about your health. Winter weather is the usual suspect, but it's not the only cause.  
Being exposed to the sun takes a toll on your lips—sunburn is a real possibility. Not drinking enough water? A flaky smile is one of the biggest warning signs that you're dehydrated. 
Even your diet can have an impact on your lips: a lack of B vitamins and omega-3 fatty acids depletes collagen. Licking and chewing on chapped lips fuels a vicious cycle of dehydration.  
The wrong products will make things worse. Loot your makeup bag for items that contain these moisture-sapping ingredients: 
• Salicylic Acid: Allergic to aspirin? Don't use a lip balm with salicylic acid. It removes old, dead skin, but it's too harsh for your lips.    
• Artificial Scent: Fragrance allergies are common. If your lip gloss smells like candy but makes your lips feel less than sweet, you're likely allergic. Look out for tight skin, scabbing, tingling, and burning. 
• Glycerin: True, glycerin is a humectant, and humectants draw in moisture. But without occlusives like shea butter or beeswax, glycerin is dehydrating. 
• Numbing Agents: Menthol, phenol, and camphor ease the sting of cracked lips. The bad news: in the long run, they can dry out your mouth.   
If you're doing everything right but still can't soothe your severely chapped lips, check your toothpaste. Drying ingredients like Sodium Laureth Sulfate (SLS) are in most commercial brands. 
The Best Products For Valentine-Worthy Lips  
Luscious Lip Balms 
Even if you swear by a no-makeup beauty routine, don't neglect your lips! Tinted lip balm is perfect for a low-key Valentine's Day look. Jojoba oil gently infuses your lips with moisture, while coconut oil and cocoa butter heal cracks and discoloration. 
Treat your date to a cupcake-flavored kiss with a few swipes of Feisty/Vanilla Lip Balm. 
For a subtle, feminine scent, apply Innocent/Rose to nourish your lips and highlight your natural beauty. 
Feeling a little nervous? 
Starting off the night with a coat of Playful/Lavender formula will do the trick. 
Velvety Lipsticks
Matte lipstick is a no-go if you lean toward dry. Use a Créme Lipstick infused with vitamin E to greet your date with a glossy, gorgeous smile. 
There's no better day to make a bold impression with a 'Daring' shade of red! To get maximum shine perfect for special occasions, make it metallic.
To ensure your lipstick lasts all night long, don't forget to apply a silky primer first. A high-quality primer prevents creamy lipstick from rubbing off and bleeding onto the corners of your mouth. 
Softening Lip Scrubs   
Regular exfoliation isn't exclusively for skin. To get smooth, soft lips for Valentine's Day, scoop out a teaspoon of your favorite organic lip scrub and follow these steps: 
1.     Place a warm compress on your mouth. Reapply until any visible dry skin looks soft.   
2.     If your lips are extremely dehydrated, apply a drop of coconut oil as a buffer.  
3.     Coat your lips with an ample layer of the scrub.
4.     Using a clean, extra soft toothbrush, spread the scrub with small, circular motions for one minute.
5.     Remove the scrub and any dead skin with a washcloth. 
Hydrating Hemp Mask
If your lips are cracked and bleeding, skip exfoliation. Show your smile some TLC with a Hemp Oil Mask. 
Research shows that CBD compounds in hemp accelerate wound healing, and Jojoba oil is safe for all skin types—even the ultra-sensitive. For optimal results, use the mask three times per day.   
Building a lip care routine with body-safe, vegan ingredients is guaranteed to give you a Cupid-approved pout. 
Remember: before you make a purchase, always read the ingredients. If you're prone to dry, chapped lips, the wrong product can backfire and trigger more irritation.