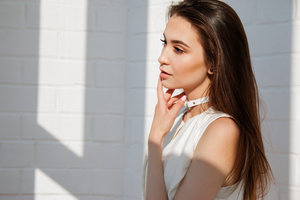 How to Apply Lipstick to Dry Lips
Struggling with dry, cracked lips? Are you having a hard time achieving flawless lipstick application because of flaky skin or dry patches? Don't worry. We've all been there. If you feel like you're constantly combating dry, scaly skin on your lips, you may not feel as inclined to flaunt your favorite lipstick. The dryness is less than ideal and can take away from your favorite lip looks. Thankfully, with a little extra lip care prep and the right hydrating products, you can improve the visual appeal of your lips and eliminate unwanted dryness. 
We're here to help you reimagine your lip care routine, so you don't need to worry about dry lips, flakey skin, or ongoing irritation taking away from your favorite lipstick looks. 
Here's what you'll need to get started: 
Apply a Lip Mask at Night
Whether you have a big date, special occasion or just want to sport your favorite lipstick the next day: Apply a lip mask before you go to bed. These products feature an ultra-hydrating formula that will help breathe life back into the delicate skin on your lips. 
Before you jump into bed and call it a day, apply our Honey Lip Mask to your lips and rub it in. This formula contains a blend of honey, vitamin E, and jojoba oil. While you sleep, the ingredients will seep deep into your skin and repair damaged skin throughout the night. When you wake up, you'll have a revived pout ready for your favorite lip color.
Exfoliate in the Morning 
An exfoliant is a must-have for anyone dealing with pesky flaky skin or ongoing dryness on their lips. They're formulated to buff away dead skin cells and make room for new cell growth. 
A lip scrub like our Sugar Scrub contains natural sugars will help you cleanse your lips, polish away dry flakes, and give you that soft pout you're craving. Before you apply your lip balm or start your skincare routine, you'll want to apply the scrub to your lips and gently rub your lips together. 
The fine-grain sugars will carefully buff away dead skin cells, leaving you with a soft, supple canvas for your lipstick. To achieve stunning color application, you'll want to use this scrub regularly or whenever you feel like your lips are extra flaky or dry.
Apply Lip Balm
Your lip balm will act as a protective layer for your lips. With the right formula, you can lock in hydration and avoid dealing with a parched pout later in the day. After you apply your lip balm, you'll want to wait at least 20 minutes before using your lipstick. If you apply your lipstick right away, it can make the color look uneven or streaky. 
Our Pure Lip Balm is infused with cocoa butter, coconut, and jojoba oil. All three hydrating components will work together to pep up your pout and help you lock in moisture before applying your favorite lipstick shade. 
Consider the Formula
The truth is: Not every lipstick is made with hydrating ingredients. Some contain ingredients that can dry out the skin on your lips, causing more harm than good to the delicate skin on your lips. 
When shopping for lipstick, you'll want to prioritize hydrating ingredients just as much as a potent formula. Keep an eye out for lightweight moisturizing formulas that glide onto your lips and give you that high-end, hydrated look your lips have been craving. 
If you have a lipstick you absolutely love but it doesn't have the best formula, you'll want to enhance your lip care routine. This ensures your lips still achieve the essential nutrients they need to thrive.
Discover the Lique Cosmetics Difference
At Lique Cosmetics, we're all about lip care. We have a variety of lip care essentials to help you build a routine that helps you achieve that irresistible pout you've been looking for.
If you're someone who feels like they always have dry lips, it's time to revisit your routine. With the right hydrating essentials, you can eliminate dryness and flaunt your favorite lipstick colors everywhere you go. 
Start shopping for our collection of lip care essentials today.