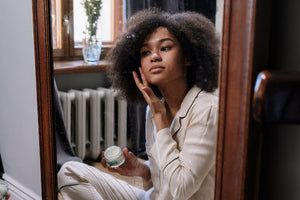 How to Calm Irritated Skin
Skin irritation is never fun to deal with. It can cause dry patches, redness, and dry or cracked skin. Which can leave you not feeling or looking your best. 
Before you panic: here are a few changes you can make that will leave a big impact. 
How to calm irritation
Always listen to your skin and pay attention to how it reacts to the skincare and beauty products you use. If the irritation is abnormal, chances are it can be easily fixed with a few adjustments. 
Here are a few ways:
Change out your moisturizer
Everyone's skin is different and reacts differently to some ingredients. If you feel like your skin is irritated by the moisturizer you use, you may want to opt for one with minimal ingredients. 
Take a look at the ingredients and try to avoid fragrances and alcohol. These are two common irritants that usually do more harm than good. If you have acne-prone skin, you'll want to make sure you're using a non-comedogenic so that it doesn't clog your pore or cause more irritation. 
Go easy on the exfoliation
Exfoliants may leave your skin feeling great immediately after. 
However, all of the gritty particles that are inside of an exfoliant can strip the skin of its natural oils and leave you feeling dry and bothered. Once in a while is usually okay, but don't overdo it. 
Use a soothing spray
Soothing sprays are usually a more refreshing, lightweight skincare option. They are formulated with gentle ingredients that will nourish your skin before you start your day or apply to makeup. 
Our Ginger Mandarin Facial Spray is formulated with ginger and hibiscus to revive and replenish tired skin. It's our go-to suggestion to help you maintain a youthful glow and keep your skin hydrated throughout the warmer days.
Buy Ginger Mandarin Facial Spray on Amazon!
Check the ingredients 
Ingredients are usually the root of skin irritation. The skin on our faces is especially delicate. That's why the products and treatments you use on your body don't always work for your face. If you're experiencing irritation, you'll want to opt for gentle, soothing ingredients. 
These will allow you to provide your skin with the nutrients it needs to thrive and reach your skincare goals. 
Soothing ingredients to look for
Aloe Vera 
We all know that aloe vera is the go-to ingredient to treat sunburns. It's been used medically for years and is an essential soothing and healing ingredient that can help calm irritation and reduce unwanted redness. The minute you apply it to your lips or skin, it absorbs quickly and delivers unreal benefits. 
To avoid dryness or chapped lips, we recommend incorporating our Lip Butter into your daily routine. It's formulated with honey and aloe vera to help boost your complexion, smooth fine lines, and give your lips natural radiance. 
Green Tea
Green tea is a natural ingredient containing high concentrations of antioxidants and a special type of antioxidant, epigallocatechin (EGCG). 
EGCG helps rejuvenate dying skin cells, giving dull skin a healthier glow. Not only that, but it also contains tannins, a known ingredient that helps shrink the size of pores and keeps them unclogged, which means it's great for acne-prone or oily skin.
To help you utilize the soothing properties of green tea, we recommend our Face Primer Stick. It's the perfect first step to any beauty routine that will deliver soothing benefits directly to your skin before applying your makeup. 
The formula is infused with botanical oils, cucumber extract, and green tea for hydration that revamps tired skin while minimizing redness, blurring pores, and evening out skin tone. 
Buy our Face Primer Stick on Amazon!
Explore all-natural ingredients with Lique Cosmetics
At Lique Cosmetics, we're nature-obsessed and cruelty-free, and our products are designed with the everyday woman in mind. We have a great selection of lip care and active products that utilize all-natural ingredients. So you can do more and do better for your skin every day.
Shop our collection today
.