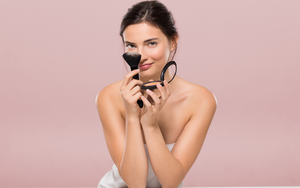 How to Change up Your Makeup Routine for Spring
Spring is a time for new beginnings and new makeup routines. As the temperature continues to rise and the weather is looking better, now is the perfect time to revisit your current go-to products. 
Get ready to trade in your cool and dramatic colors for some bright and poppy ones to match your springtime wardrobe!
We're here to help you refresh your routine for the new season and give you some tips to help make the transition easier. 
Here are a few things to consider: 
Invest in a trustworthy sunscreen
To be honest: you should be wearing sunscreen all year long. However, since you'll most likely be spending more time in the sun, you may want to invest in a face sunscreen that has a higher SPF than what you've been doing. Taking the time to prioritize sunscreen and make it an integral part of your makeup routine can help reduce fine lines and wrinkles from forming and slow down the aging process. 
Don't worry: there are tons of high-quality sunscreen options on the market that don't leave a white cast when you apply it to your face. So you don't have to worry about sunscreen disrupting your makeup looks. 
Let your skin breathe
With the change in the weather, you may want to go for a more light and airy look to fit the new season. 
We recommend considering trading in your heavier foundation for something lighter and easier to wear out, like a BB cream or tinted moisturizer. These still provide the coverage you're looking for but give you a more natural look and feel that's perfect for spring. 
If you're looking for something easy to apply and wear every day you can try any of our BB Creams. Our BB Cream comes in a no-touch applicator, perfect for the person on the go.
Time to get that golden glow
If you haven't been doing this already, you may want to get a springtime glow with a new bronzer or highlighter. 
Bronzer is great for adding some warmth to your complexion and giving you a more finished look. A highlighter like our Bronze Duo Highlighter & Eye Brightener is a lightweight formula made to give you that seasonal shine that will leave you glowing in the sunlight. 
Buy Bronze Duo Highlighter & Eye Brightener on Amazon!
Springtime lip color
Instead of those cooler shades you wear throughout winter, look for something that adds a warm touch to your makeup look. 
We love brighter colors and warmer tones for spring. They help add more color to your complexion and help to elevate your everyday makeup look for picnics at the park and fun in the sun. 
Give yourself a refresh
More time in the sun means you'll need to keep your skin hydrated, revived, and replenished. Make sure you're using a moisturizer you love in the morning and night to keep your skin hydrated and plump as it adjusts to the warmer weather and more time in the sun. 
You can also try our Ginger Mandarin Facial Spray to restore your skin's healthy glow after a long day in the sun!
Buy Ginger Mandarin Facial Spray on Amazon!
Play with bright color eye shadows
Alright, it's time to give the dark and moody looks a break and add some color back in! We're not just talking reds and pinks, we're talking bright and vibrant!
Consider playing with neon colors and see how it pairs with your complexion. It's a fun way to add a playful flair to your everyday look.
Add some color to your cheeks
Lastly, never forget the blush. Instead of the darker mauve and burgundy tones, try playing with pinks, bright reds, and corals. 
Our Unbreakable Lip & Cheek Stick or our Passionate Lip & Cheek Stick are great for adding a subtle pop of bright color that doesn't take away from your finished makeup look. 
Buy Lip & Cheek Sticks on Amazon!
We hope this helps you transition into spring! As you start to refresh your looks, never be afraid to have some fun with your makeup looks. Step out of your comfort zone and play with bright colors you never would have thought of using before. 
There's no better time to experiment with color choices and take your makeup looks in a direction. Who knows, your springtime look may turn into your go-to look!