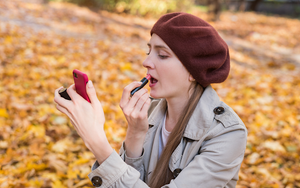 How to Choose the Best Autumn Lip Color for You
At Lique Cosmetics, if there is one thing that we know better than anything else, it's lips and if there is one great thing about fall – it's choosing those incredibly pretty fall lipstick colors! 
In this post, we are going to walk you through some of our favorite lipstick colors for fall and how to go about choosing the right ones for you!  
Choosing a lipstick color is one of the most personal decisions that you can make and with that in mind, it can help to know a few basics about yourself and your skin. There are subtle nuances in a tone that have a profound effect on how it looks when you finally put on that lipstick and pucker up! 
Let's take a look at what we're talking about: 
Understanding Undertones 
Whether you have very pale or very dark skin, the undertones that you have are going to fall into three basic categories. 
We're going to break them down to aid you in understanding what yours are and which fall lipstick colors will be right for you.  
Warm – Warm undertones are more of a golden, peach, or yellow hue. People with warm undertones and light skin will tan more of a peach color where darker skin with warm undertones will go more of a caramel color.  
Ideal Lipstick Colors: 
Lipsticks with colors that match the reddish hue of the autumn leaves are going to be your best friend this fall if you have warm undertones.  
Orange-Red  

Brick-Red  

Terra-Cotta 
You would look beautiful this fall in either our Potion Cream Lipstick or our Stunning Cream Lipstick in one of our darker red colors! 
Our darker red shades through to pink will have your complexion looking stunning and your teeth appearing whiter as well! You can check them all out here. 
Neutral - This is, as the name would suggest, a mix or balance of both warm and cool. Neutral, right in the middle. You might tan or you might burn in the sun – you're neutral, it could go either way!  
Ideal Lipstick Colors:  
The nice thing about having neutral skin tones is that you can work, with a diverse array of colors! 
The world of lipstick is quite literally your oyster with neutral undertones, but we especially recommend trying some of these colors:  
When you have neutral undertones it's all about experimenting and going with what you feel looks the best!
We recommend trying out our flawless cream lipstick in any one of the 14 shades it comes in – purple, berry, light pink – it's up to you. For autumn, darker colors are always in. Have fun with it and flaunt your neutral undertones!  
Cool – More of a blue, red, or pink hue of undertone. If you have cool undertones and lighter skin you might notice that you tan more of a rosy red than a golden brown. Medium-toned skin will go more of a cinnamon color.  
Ideal Lipstick Colors: 
Our Fierce Cream Lipstick in a stunning purple, blue, or combination of the two is going to be deeply beautiful on you if you have cool undertones. 
We have 14 shades for you to choose from, but the 7 of those that are leaning more towards the purplish-blue end of the spectrum were custom made for all of the cool-undertone sporting gals who are reading this. You can take a closer look here! 
How to Find Out Your Undertones  
Finding out your undertone is quite simple. In natural light, simply have a look at the little veins in the underside of your wrist.
If your veins seem more of a blue – you have cool undertones. 
If the veins look more of a greenish color – yes it can be a little tricky to differentiate, then you have warm undertones. 
If you really can't tell if they are blue or green looking – you've hit the jackpot with neutral undertones and can wear any lipstick you like and look fabulous!  
Having a better understanding of your skin shade and tone is the key to successfully choosing lipstick in the fall and year-round. It is also helpful for choosing other types of makeup like foundation. 
Hopefully, armed with this new information you'll be feeling more confident when choosing your next lovely autumn lipstick color!