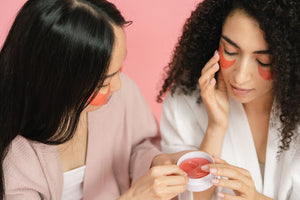 How to Conceal Dark Circles
There's nothing more frustrating than dealing with recurring dark circles under your eyes. Learning how to combat these pesky imperfections can seem nearly impossible sometimes. 
The worst part is, even though you feel like you were able to effectively cover them with your go-to makeup essentials, dark circles may still be pigmented enough to show up in selfies or photos.
There are several reasons you may be dealing with these beauty problems. Whether you didn't get enough sleep the night before or it's simply in your genetics: The only way to cure these irritating imperfections is with some makeup magic. 
Don't worry: we're here to help. All you need to do is make small adjustments to your makeup routine to see results. 
Here are a few ways you can achieve a flawless finish. 
Start with de-puffing 
To de-puff your eyes: you'll need eye gels, an ice pack, or an ice roller. The coolness from these items helps your blood vessels constrict and alleviate some of the pressure causing unwanted puffiness. If bags or dark circles are an ongoing issue for you, we recommend making this part of your morning and night routine.
Try out an eye cream
Some individuals require a little extra hydration under their eyes to maintain a youthful glow. Finding a trusted eye cream can help you hydrate and nourish the delicate under-eye skin. Then, when you apply your corrector and concealer, the product will have a moisturized base it can sit on top of rather than sink into.
Go in with the foundation
Next, add your favorite foundation. If you need more coverage under your eyes, consider using your finger rather than a sponge. Everyone's skin tones and undertones are different and can make a big difference when applying a foundation. Make sure you find your perfect shade that blends naturally and provides optimal coverage. 
Apply your corrector and blend with a concealer
Correctors use color theory to cancel out the tones of pigmentations under your eyes. If your dark circles have a purplish hue, it's recommended to look for an orange corrector. 
Next, you'll want to apply your concealer over the corrector to complete the look. We recommend a full coverage concealer a shade lighter than your skin color. If you're prone to fine lines under your eyes, consider a matte formula for the best results.
Add in an eye brightener 
After blending, it's time to add some glow back in with our Bronze Duo Highlighter & Eye Brightener. This brightener tool is a lightweight, vegan formula infused with cooling menthol and melts into skin for seamless, long-lasting glowing effects. 
It's specifically formulated to cover dark circles and add some extra brightness under your eyes. Our brightener contains coconut and jojoba oils to provide intense moisture and a healthy boost of antioxidants. 
Shop our Bronze Duo Highlighter & Eye Brightener on Amazon!
Complete your makeup look
Once you have a solid base with the coverage you need, continue with the rest of your makeup! Apply your eyeshadow, add a few layers of mascara, and never forget all of your lip care essentials!
Use a setting spray
Setting sprays allow your makeup looks to last all day, so you can rest assured you'll be camera ready. Before using your setting spray, look in the mirror and open your phone's camera to see if you were able to successfully remove the dark circles under your eyes. If everything looks good and you feel good too, it's time to use a setting spray to lock everything in. 
Upgrade your makeup collection with Lique Cosmetic 
At Lique Cosmetics, we want to help you achieve that flawless look of sheer beauty! All our products are formulated with natural ingredients, so you can be confident about the ingredients you have in your makeup routine. 
Shop our collection today!