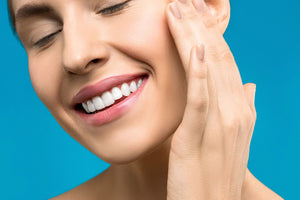 How to Include a Lip Plumper in Your Beauty Routine
If you've been trying to achieve the natural, luscious pout, you may want to consider incorporating lip plumper into your beauty routine.
Lip plumpers contain mildly irritating ingredients that help swell your lips and provide you with that fuller pout you've been craving! These ingredients include wintergreen, ginger, or menthol. 
Once you apply it, you'll experience a tingling sensation. Right away, you'll notice a slight swell in your lips that provides you with a fuller, kissable pout.
Benefits of peppermint oil in lip plumpers 
When looking for lip plumpers, you'll want to keep an eye out for ones that are formulated with peppermint oil. Peppermint oil helps boost circulation to plump the lips up and create a naturally fuller appearance. It also has a cooling, refreshing effect because of the menthol. 
Not only does this ingredient help you get the fuller lips you've always wanted, but peppermint also has anti-inflammatory properties that make it great for soothing dry or chapped lips. 
How to use lip plumper in your nighttime routine
Exfoliate 
For your lip plumper to fully work its magic, you'll want to start with a smooth surface. Start your lip care routine with an exfoliant, like a lip scrub. The lip scrub will buff away any dead skin cells and remove any dry or flaky areas. 
Plump
Once you have a smooth, ready-to-go canvas for your lips, it's time to get to plumping! Apply the lip plumper directly to your lips. 
We recommend our Clear Lip Plumper for the nighttime routine. Our energizing and hydrating formula has everything your lips need.
Buy our Clear Lip Plumper on Amazon!
Mask 
After the plumper, you'll want to apply a lip mask. A lip mask will help eliminate the appearance of dry skin on your lips. 
So when you wake up in the morning, you can take on the day with soft, supple lips. Consider it just an extra hydration boost! 
Our Pure Hemp Oil Lip Mask has jojoba oil, a hydrating ingredient that helps soothe dry, chapped lips and lock in moisture, so you can wake up with kissable lips every morning!
Buy our Pure Hemp Oil Lip Mask on Amazon!
Butter
The last step is to apply lip butter. Lip butter is a go-to everyone should have in their lip care routine. 
Our Lip Butter contains nutrient-rich ingredients like honey, aloe vera, and vitamin E. At night the nourishing formula will work to hydrate your lips, leaving them as soft as pillows in the morning when you wake up!
How to use lip plumper in your daytime routine
Exfoliate 
In the morning, you'll want to repeat the same exfoliating process. This way you can start your day with soft, supple lips. 
Using an exfoliator in the morning also helps maintain the longevity of your lip gloss or lipstick looks throughout the day.
Plump
Once you've buffed off the dead skin cells and you're ready to start your day, it's time to get to plumping! Plumper is a great prep item for your lips to prepare for an all-day lip color look.
Want to simplify your routine? Try choosing a colorful lip plumper like our Pillow Talk Lip Plumper to finish your look!
Buy Pillow Talk Lip Plumper on Amazon!
Balm
Instead of a lip masque, try playing with a lip balm. Think of a lip balm as your daily lip base. It's there to provide your lip with the nourishing ingredients they need to stay soft and smooth throughout the day. 
Our Pure Hemp Lip Balm contains coconut and jojoba oils, two key hydrating ingredients for the lips. The best part? The balm provides the perfect amount of shimmer, so if you want to stop there, you totally can!
Buy Pure Hemp Lip Balm on Amazon!
Gloss
Last, but certainly not least, it's time to add some gloss or color to your lips! Which product you choose is up to you and your mood. 
If it's spring or summer, and you're looking for something lightweight and easy, go with our Devine Lip Gloss. It's enriched with vitamin E and natural oils like jojoba to provide a nourishing yet beautiful finish to your lips before you start the day. 
Buy Devine Lip Gloss on Amazon!
Looking for something more bold and playful? Try one of our liquid lipsticks, like our Uptown Girl Liquid Lip. 
Buy Uptown Girl Liquid Lip on Amazon!
No matter what color or look you end with, your plumper will be working its magic, providing you with the perfect pout. All of our Lique Cosmetic lip plumpers contain the active ingredient peppermint oil. The minute you apply it to your lips, you'll experience the cooling and plumping sensation.
Ready to try this routine for yourself? Check out our latest
Ultimate Lip Care Routine Video
and
shop our lip plumpers today
.