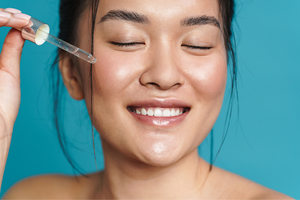 How to Incorporate Oils Into Your Beauty Routine
When it comes to perfecting your beauty routine, you want to do more than just look and feel good. Of course, finding the perfect shade of lipstick and blush is probably at the top of your list (and should remain there!), but you should always aim to be doing more for your skin, too. 
The skin on your face and lips is more sensitive than the rest of your body. That's why it requires gentler products and ingredients that won't overly strip the skin or cause any harm. 
To maintain your natural beauty and youthful glow, you'll want to prioritize all-natural oils in your beauty routine, not just your skincare routine. 
Here are a few beneficial oils to look out for and how you can upgrade your beauty products:
Coconut oil 
You most likely already use coconut oil in your body care or skincare routine. That's because coconut oil has un-real nourishing and moisturizing properties and can be particularly beneficial for the skin on your lips. 
Our lips don't have the same oil glands as the rest of our bodies, which is why they are more susceptible to being dry and chapped. Since it's ultra-hydrating, it can add a protective barrier to your lips and keep the most sensitive skin looking and feeling its best. 
All you need to start experiencing the benefits of coconut oil is a trusted lip balm like our Pure Lip Balm. Keep it in your purse and carry it everywhere so your lips can experience the hydrating benefits. 
Buy our Pure Lip Balm on Amazon!
Sunflower seed oil
Sunflower seed oil contains linoleic acid, which can help your skin maintain a protective outer layer, retain moisture, and protect your skin against bacteria and germs. This oil also contains vitamin E. Which is a powerful antioxidant that helps promote cell regeneration. 
We utilize sunflower seed oil in our Duo Mascara & Brow Gel to help you build flexible length, volume, and shape. Every time you apply the gel to your eyebrows or lashes, you'll be combating unwanted germs and bacteria that could cause unwanted irritation. 
Buy Duo Mascara & Brow Gel on Amazon!
Rosehip oil
This oil comes from pressed fruits and seeds of the Canina Rose Bush. It's packed with skin-nourishing vitamins and provides an abundance of essential fatty acids. If you're someone who keeps their makeup rather minimal, you probably opt for a liquid or stick blush. 
Every time you apply blush to your skin, you want to feel confident about the ingredients within the product and feel good about what you're putting on your face. Our Brilliant Lip and Cheek Stick contains shea butter and rosehip oil, so you can always get a healthy dose of hydration every time you use it. 
Shop Brilliant Lip & Cheek Stick on Amazon!
Avocado oil 
Avocado is jam-packed with nutrients and antioxidants like vitamin A, D, and E. Antioxidants protect the skin from free radicals and environmental stressors that are known for causing fine lines and wrinkles. Since avocado quickly absorbs straight into the skin, it can help quickly nourish even the driest skin. 
Our Lip Scrub gently buffs away dry skin and leaves your skin feeling smooth. Right away the avocado oil gets to work, providing you with intense hydration before you finish the rest of your lip care routine. 
Peppermint oil 
Looking for the plumpest pout? You need peppermint oil. Not only does peppermint oil boost circulation and help you achieve a naturally fuller appearance, but it also has anti-inflammatory properties that can help you soothe and treat dry, chapped lips. 
Our Clear Lip Plumper utilizes the power of peppermint oil to give you fuller, sexier lips without injections. Every morning before you apply your favorite lipstick or gloss, just add a layer of plumper. 
Buy our Clear Lip Plumper on Amazon!
Start incorporating oils into your beauty routine today
At Lique Cosmetics, we are always focused on the future and obsessed with pushing for innovative natural formulas that "do it all" in one simple routine, for all ages and skin tones. Take a look at our list of
active
and
care ingredients
to find products that you can benefit from today.