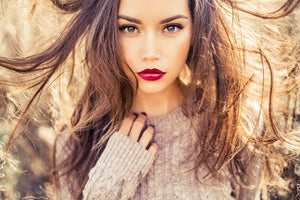 How to Keep Your Skin Hydrated This Fall
Autumn is one of our favorite times of the year from cozy nights around the fire, hot chocolate, family get-togethers, and frosty mornings.
Of course, every good thing must have its drawback, and even fall is not exempt from this rule. As the air gets colder, it also becomes less humid and that can leave your skin feeling dry, itchy, and flaky.  
Luckily, Lique cosmetics has your back! In this post, we are going to cover some of the best ways that you can keep your skin hydrated and moisturized through the fall and into the winter! 
These methods are tried and true and will help you to keep your skin from drying out – so you can enjoy fall, and look radiant, too!  
Hydrate 
There are, of course, many things that you can do for your skin from the outside in – and we're going to cover some of the best ways to go about doing that below. 
But you can also hydrate your skin from the inside out and it's as easy as drinking lots of water!  
Dehydration causes your skin to dry out, wrinkle, and age prematurely, so this is good year-round advice. 
Many people find it quite difficult to get the full amount of water that they need so here are a couple of helpful tips if you fall under that category. 
Get a water bottle that you like to drink from. It might seem silly, but water does take on a different taste, depending on the vessel that you drink it from. Try a metal or glass water bottle that you can take with you!  

Switch out tea for coffee. If drinking water is too boring for you, try swapping out your coffee with tea. 

Use water-flavoring squirt products. Sometimes making your water taste like a sweet drink is a great way to help get it down. Try it!  
Use Plenty of Moisturizer 
Here is one that seems pretty obvious. If you want to moisturize your skin – there is a product for that. 
Using a good moisturizer that comes with high-quality ingredients like jojoba oil, shea butter, coconut oil or aloe vera is a fantastic way to help fight the drying weather of fall.  
Did you know that Lique offers many great cosmetic products that are made with these kinds of natural and game-changing ingredients? You can learn more about each of our 10 favorites here!  
Minimize Hot Showers 
This one kind of hurts a bit. Yes, while taking a long, hot steaming shower might sound like the best thing in the world on a cold autumn day – it isn't that great for your skin. 
 While water may be the essence of moisture (thank you Zoolander), taking overly long and hot showers washes away the essential oils that you need to maintain that healthy glow!   
Invest in a Humidifier  
If you've got a few extra bucks lying around, investing in a humidifier is a great way to turn your home into an oasis in the dry days of fall.  
Exfoliate Weekly  
Implementing a weekly exfoliating routine is a great way to ensure that you keep your skin looking fresh and soft. 
As our skin creates new cells – the old and dead ones are pushed to the surface and this gives our skin a dry look and feel. 
Exfoliating weekly works wonders in tandem with moisturizing often and will help you hold on to your glow no matter how dry the weather gets! 
Sweat 
OK, there are a million and one reasons why exercising is a great idea and keeping your skin looking young and rejuvenated is one of them. 
By increasing blood circulation you boost the number of nutrients that your skin receives. Working up a sweat also relieves stress, which is the enemy of healthy-looking skin, and finally sweating opens up your pores and acts as a natural cleanser from the inside out. 
Do yourself a favor and work up a sweat!  
Try Our Ginger Mandarin Facial Spray 
Here at Lique Cosmetics, we also offer a great, portable spray that helps to moisturize, hydrate, and replenish your skin – on the go. It's perfect for those girls on the go so check it out here!  
If you follow a few or all of these tips, you will be on your way to glowing through the cold months – let us know how it turns out!