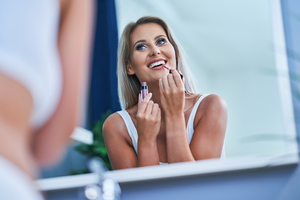 How to Make Your Liquid Lipstick Last All Day
Picture this: you find the perfect liquid lipstick. It has the perfect color to match your complexion and looks perfect with almost everything you wear. 
The problem is, you just can't figure out how to make it last all day. We feel your pain. It's not easy making a liquid lipstick last all day, no matter how high quality the product is. 
The truth is: Finding a product you love and adore is only half the battle. To make the liquid lip color last all day, you're also going to need to prep the lips and button up your lip care routine. 
Here's how you can do it:
Start with an exfoliator  
Exfoliants are a must-have for anyone that wants their lipstick to last all day long. Exfoliating your lips often helps you remove dead skin cells, make room for new ones, and create a soft, supple canvas to begin your lip care routine. 
Without an exfoliator, you risk applying lipstick over flaky or dry skin, which makes it harder for your liquid lipstick to last throughout the day. 
To get started, we recommend our Lip Scrub. It's formulated with vitamin E, avocado oil, and natural sugars to provide a spa-like experience every morning. 
After just one use, you'll have visibly smoother and softer lips ready for stunning color application. 
Never forget to hydrate
After you've exfoliated, you'll want to lock in that moisture and hydrate your lips with a Lip Balm or a Lip Butter. 
Consider this as your moisturizer base before you get ready to dive into your lip looks for the day. 
Our Lip Butter is made with nutrient-rich ingredients like honey and aloe vera. 
These nutrient-rich ingredients will seep deep into the skin on your lips, giving your pout a soothed and radiant appearance.
Get primed and ready
Priming your lips with a lip primer can help you maximize your wear time and increase the longevity of your lip looks. 
All you need to do is dab your primer onto your lips. This will help prevent your lipstick from settling into the lines on your lips or causing unwanted feathering.
Play with a liner
A lip liner helps keep your lip color from fading throughout the day. You'll want to try to match your lipstick color as close as you can! 
Doing this can help create a fuller pout, and the best part is, even if your lip color starts to fade, the lip liner will make it seem like it hasn't.
Apply your favorite liquid lipstick
Now it's time to apply your liquid lipstick of choice! Once your lips are moisturized, primed, and ready to go: you can add the first layer of your liquid lipstick to your lips. 
Once you apply, you'll want to blot the color and repeat the process. Keep blotting until you get the color you're looking to achieve. Doing this will help you maximize your coverage and give you a gorgeous finish you can flaunt all day long.
Finish with a setting spray or powder
After you've finished your entire makeup look for the day, you may want to spray a setting spray over your face, don't forget your lips!
Applying a setting spray or a powder is a great way to ensure your lipstick look lasts, and you won't need to deal with any unwanted transfers throughout the day. 
Take your lip care to the next level with Lique Cosmetics 
At Lique Cosmetics, we have a wide range of lip care products formulated with nutrient-rich ingredients. 
If you're ready to improve the longevity of your favorite lip looks and want to enhance your beauty routine, shop our wide selection of lip care today!