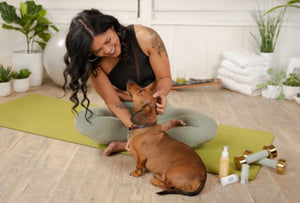 How to Refresh Your Skin After the Gym
Working out at the gym is a great way to keep fit. You can enjoy a wide range of benefits for your physical and mental health plus your overall wellbeing. 
But while you're working out, don't forget to take care of your skin.
During any type of activity at the gym, your skin goes through a lot. Sweat, oils, and dirt create conditions that can lead to blemishes and breakouts.
To protect your skin at the gym, get into the habit of taking these steps to protect your skin during a workout and refresh it afterward.
Created by women to empower individuals, Lique Cosmetics recently developed a new line of makeup for active people. 
Lique Active cosmetics can help refresh your skin during and after a workout. 
Here are several tips to help you protect your skin while staying physically fit.
Before Your Workout
If you're going to be exercising outside, be sure to apply sunscreen. 
Even inside a gym, it's a good idea to use sunscreen, especially if you'll be by windows, skylights, or areas that are open to the outdoors. 
Sunscreen will protect your skin whether you're exposed to the sun directly or indirectly via reflected light and glare.
You don't always have time to go home first and get ready before heading to the gym. 
Often you may find yourself going to the gym straight from work or school, or from a social engagement. 
In these cases, if you want to remove your makeup before working out, wash with a non-drying cleanser, and follow with an alcohol-free toner. 
Many people choose to exercise with makeup on. When using the right products, there's no reason not to. 
Lique Active cosmetics are designed for people who choose to wear makeup while maintaining an active, fit lifestyle. 
Protect Your Skin at the Gym
Keeping hydrated is a great way to protect your skin while you're exercising. 
In addition to drinking enough fluids while you work out, you can wear hydrating primer and makeup to protect your skin.
Start by applying our face primer stick for a luminous foundation.
It's lightweight and vegan, and the ingredients include green tea to minimize inflammation, plus jojoba and coconut oils to provide hydration. 
Green tea infusion works to soothe and cool your skin, making this primer perfect for when you're working out. 
After using the no-touch applicator to easily smooth on a protective foundation, you can add additional Lique Active cosmetics according to your personal preferences. 
You'll find a wide range of products for your lips, cheeks, eyes, and more to help you create your desired look before, during, and after your gym workout.
While you may feel tempted to rub your face in a towel to wipe off the oil and perspiration you'll inevitably produce while exercising, remember that skin is fragile. 
Instead of rubbing your skin, pat your face dry with a soft, non-abrasive towel. Select towels made from specialized microfibers that are ultra-soft and ultra-absorbent. Patting or dabbing is so much better for your skin than rubbing or wiping. 
Refresh Your Skin After the Gym
Once your workout is over and you're feeling that post-gym high, thanks to the release of endorphins that trigger a positive feeling, it's time to give your skin the attention it needs. 
Lique Active Cosmetics can refresh your skin both during and after your gym workout.
A great product for refreshing your skin post-workout is Lique's ginger mandarin facial spray.
Infused with ginger and hibiscus, this spray helps restore skin, giving it a healthy glow. In addition to being great after exercising, our facial spray will refresh your skin after you've spent time in the sun.
A soothing facial spray can help you take care of your skin while still being on the go. 
If your active lifestyle takes you from the gym to your next activity without much time in between, you'll look and feel refreshed with a soothing facial spray. 
It won't slow you down, so you can keep going with your day without missing a beat. 
To Learn More About Lique Active Cosmetics
Using only natural ingredients and ensuring that our products are vegan and cruelty-free, Lique strives to empower makeup wearers to look and feel their absolute best. 
Lique Active cosmetics address the needs of individuals with an active style. 
Our innovative formulas help you adopt a simple makeup routine that protects your skin, keeps you feeling fresh, and helps you look your best without slowing you down. 
Learn more about our all-natural ingredients and discover what makes our products so great for your skin!
If you have any questions or would like more information about our great products, feel free to contact us.