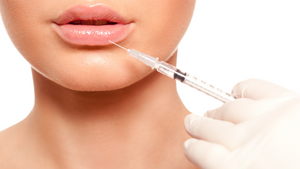 How to Take Care of Lip Filler
Aren't a fan of your natural lip shape and size? Don't worry. You aren't alone! It's expected that a lip filler procedure takes place every 20 minutes in the United States alone. That's over 27,000 procedures a year! Lip filler is one of the most common, minimally abrasive lip procedures that allow individuals to achieve the lips of their dreams. 
However, after the injections, there are a few steps you need to take if you want to take care of your new, kissable pout. 
Here's everything you need to know. 
Reduce swelling after the procedure
After the procedure is done, you may experience significant swelling. The swelling should go down about 2-3 days after receiving lip filler. 
The swelling will be the worst the first day - so you won't know exactly how your luscious lips will look. (It will be worth the wait!) 
You can minimize the swelling and discomfort by:
Staying hydrated and drinking plenty of water

Gently apply an ice pack to your lips

Avoid high-intensity workouts for the first 24 hours 

Avoid extremely hot or cold foods for 24 hours 

Don't drink alcohol during the first 24 hours

Avoid salty foods that can cause you to dehydrate
We know - this seems like a lot. But you'll need to give your lips time to heal! Even though the swelling may be persistent for 2-3 days, after the first 24 hours fly by, you can get back in the gym, enjoy your favorite foods, sip on a drink and return to normal. 
Look, but no touch! 
We know it can be tempting to touch your new, kissable pout, but during the first 24 hours, this can cause irritation and inflammation. Give your lips time to heal and let the filler settle. 
During the first 24 hours, you'll want to:
Eat easy-to-chew foods 

Avoid using a straw 

Avoid touching, kissing, and massaging your lips

Avoid putting excessive pressure on your lips
Revise your skincare routine 
During the first few days, you'll need to be careful. You'll want to avoid using skincare products with harsh chemicals and avoid excessively touching your lips. 
Avoid getting a facial massage for the first two weeks after your appointment 

Don't exfoliate during the first 24 hours 

Be gentle while washing your face during your skincare routine, and avoid applying pressure to your lips 
If your lips are dry, apply Lip Butter after the appointment. Our Lip Butter features a smooth, creamy texture that's easy to apply with minimal pressure. To avoid irritation and infection, you should use an unopened jar. 
Bring your favorite lip gloss 
After the appointment, there may be more bruising than you'd expect. To keep your lips looking their best, you'll want to bring your favorite lipstick to your appointment, so you can cover up the imperfections. 
We recommend bringing our Forever Young Lip Gloss. This lip gloss features a curved applicator wand that fits around the contours of lips for easy coverage - so you don't need to worry about applying too much pressure after the procedure. You'll experience beautiful color coverage with just a few swipes.
After the appointment, you'll want to avoid using your favorite lipsticks for at least 24 hours so that you don't press too hard on the fillers. 
Keep your lip fillers plump
After the first 24 hours, you can return to your regular skincare routine. If you want to keep your lip filler plump and look its best, you'll want to start using hydrating products to keep your lips soft, supple, and luscious. 
We recommend a Lip Mask. Our lip mask is formulated with jojoba oil and vitamin E - two ultra-hydrating ingredients that keep your lip filler plump and moisturized.
Always have a go-to lip color by your side
Now that your lip filler is fully healed, it's time to flaunt your lips! Everywhere you go, you'll want to carry your favorite lip color in your purse or backpack. We recommend our Kitten Moisturizing Cream Lipstick. This product features rich pigment in a crème formula comfortable for all-day wear - so you can turn heads and keep all eyes on you.
Flaunt your lip filler with Lique Cosmetics 
We'll warn you now: After you get lip fillers, you'll become obsessed with flaunting your favorite lip color and achieving that kissable pout of your dreams. At Lique Cosmetics, we have all the lip care essentials that will keep your lips looking and feeling their best. All our products are formulated with hydrating ingredients, so you can feel good about the products you use.