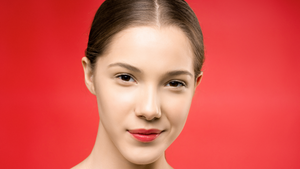 How To Tell The Difference Between Warm & Cool Lipstick
There are three different skin undertones: warm, cool, and neutral. Identifying your skin undertones will help you find the perfect foundation, concealer, and lipstick color to flatter your features. 
In the same way your skin has an undertone, so do your favorite lipsticks. If you don't look at the different undertones of your lipsticks, you may choose colors that leave your complexion looking washed out or not feeling your absolute best. 
We're here to walk you through how to know if lipstick has warm or cool undertones, so you can expertly pick lipsticks suited for your skin undertone.
Here's everything you need to know:
What are Lipstick Undertones?
It's no secret that there are thousands of lipstick shades to choose from. It can be very overwhelming, especially if you aren't sure which color will suit your features.
All lipsticks have different undertones that are based on color theory. Knowing the different undertones and how they complement your skin's undertone will help you discover shades that expertly complement your skin undertone.
Before learning how to find warm and cool lipsticks, you'll want to find your skin undertones. To do this, look at the color of your veins on your wrist. If they are blue, you likely have cool undertones. If your veins look green, you likely have a warm undertone. If it's neither blue or green, you have a neutral undertone. 
Now, the real fun begins!
How to Find Your Lipstick Undertone
If you aren't familiar with the color wheel or you don't wear lipstick regularly, it may be hard to notice the difference in undertone shades. The best way to find the undertone is to swatch the lip color on the back of your hand. If the shade is vibrant and the color pops on your skin, it likely has warm undertones. If the color looks more muted, it likely has cooler undertones. 
Another way to see the difference is by swatching the color next to a bright blue item. If the lipstick complements the blue, it has cooler undertones. If it feels like the colors are competing with each other, it likely has warm undertones. 
How to Find Lipsticks with Warm Undertones
Lipsticks with warm undertones typically have an orange, peach, golden, or red undertone. As a general rule of thumb, the colors are typically more vibrant and on the warmer section of the color wheel. 
If you have warmer undertones, you'll want to look for coral, peach, pink, and vibrant reds. If you're looking for something subtle, consider a nude with a warmer feel. 
Lique Cosmetic Recommendations for Warm Undertones
How to Find Lipsticks with Cool Undertones 
Lipsticks with cool undertones are on the opposite side of the color wheel. The shade typically has blue, purple, pink, or light green undertones that you can visibly see. 
If you have a cooler skin tone: You'll want to look for a red lipstick with blue undertones. You can also play with pink, berry, and mauve with a purple undertone. 
Lique Cosmetic Recommendations for Cooler Undertones
Experience Lique Cosmetics Difference
All of our cream lipsticks have a rich pigment that's comfortable for all-day wear. The lightweight, moisturizing formula keeps lips hydrated and looking their absolute best everywhere you go. All you need to do is find the perfect lipstick undertones. Our matte liquid lipsticks are a high-pigmented, rich formula perfect for that matte finish you crave. 
Ready to discover your new favorite lip care essentials? You've come to the right place. At Lique Cosmetics, we have a wide range of lipsticks with warm and cool undertones. Whether you're looking for a warm peach color or a daring purple: We have you covered. 
Start exploring our lipstick colors today.