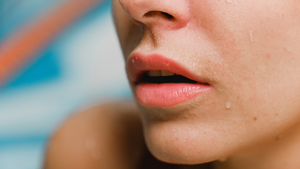 Tired of dealing with dry, flaky skin on your lips? Do you feel like your lips get chapped and cracked during the winter? If you're constantly battling dryness and irritation, it could mean you aren't exfoliating enough. 
The skin on your lips is gentle and requires extra TLC to keep it looking and feeling its best. If you aren't regularly exfoliating, the skin on your lips may appear dry, dull, or irritated. 
That's where a lip scrub comes in. 
With a trusted lip scrub, you can avoid dryness and irritation and keep your lips looking their best all year long. 
Here's everything you need to know:
What is lip scrub?
Lip scrubs are similar to the exfoliant you use in the shower or during your skincare routine. However, a lip scrub is expertly formulated for the skin on your lips. They typically feature a fine texture like salt or sugar that helps buff away dead skin cells and make room for new growth. 
How to use a lip scrub
Apply a small amount to your lips

Rub your lips together and allow the sugar or fine particles to buff away the dead skin

Continue to rub for at least 30 seconds

Check your lips to see if they are visually softer and smoother

Wash or wipe the rest of the product off of your lips
For the best results, you'll want to exfoliate your lips with a lip scrub at least 1-2 times a week. If you exfoliate any more than that, it can lead to unwanted irritation and redness. Balance is key to keeping your lips looking and feeling soft and supple. 
Keep in mind - exfoliants are known to temporarily disrupt your skin barrier. This means it can lead to temporary moisture loss. After using a lip scrub, you'll want to apply a hydrating formula, like our Lip Butter to help restore moisture and give your lips that extra pick-me-up they need. Afterwards, you can continue with your everyday lip care routine. 
The benefits of a lip scrub 
Restore smoothness 
Tired of dry, cracked lips? With a lip scrub, you can restore your lip's natural smoothness. When you apply a lip scrub and rub your lips together, the formula will eliminate dryness and improve the visual appearance of your lips. 
Flaunt your favorite colors 
Obsessed with your winter lipsticks but feel like you can't wear them because your lips are always dry? With a lip scrub, you can buff away all that flaky, dry skin - so you can flaunt your favorite lip colors everywhere you go. 
After exfoliating, you can even flawlessly apply our Double Shot Matte Liquid Lip to your lips. This lipstick features a doe foot applicator that provides a gorgeous matte finish that will last all day long. 
Help your lip care essentials work better 
If you never exfoliate, you're never making room for new growth. Once you buff away that layer of dead skin cells, you'll find that your favorite lip butter and lip masks will work more effectively. The hydrating ingredients will be able to seep into your skin and lock in hydration. 
After exfoliating, we recommend using our Courageous Lip Mask. It's expertly formulated with vitamin E and jojoba oil, two hydrating essentials that will help you revive your pout and give you that much-needed hydration boost you've been craving. 
Ready to add a lip scrub to your daily routine? You've come to the right place. Our Rejuvenating Lip Scrub features an ultra-fine texture of natural sugars to gently buff away dry skin, leaving lips smooth and ready for flawless color application. Our formula contains an expert blend of avocado oil, vitamin E, and jojoba oil - three hydration essentials for smoother, softer lips. After just a few uses, you'll notice a visual difference! 
Upgrade your lip care routine 
The skin on your lips is fragile and delicate. If you want to keep your lips soft and supple, you'll need the right lip care essentials by your side. At Lique Cosmetics we have everything you need to achieve a kissable pout. Whether it's a hydrating lip mask or high-quality lip scrub - we're your one-stop shop for all your lip care essentials.