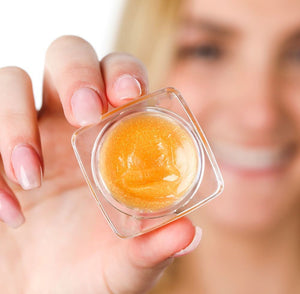 Kiss Dry Lips Goodbye With Lip Butter
No matter what makeup looks you love or are experimenting with right now, we're willing to bet that dry lips are not a part of them. Lip balms – depending on their ingredients – can offer some relief for minimally dry lips or can help prevent chapping, but sometimes you just need extra moisturizing lip care. This is especially true if you live in an area with harsher climate conditions (think blazing dry heat, blasting air conditioners or blustery winds and snow)! Luckily there's Lique Lip Butter to the rescue.
Lique Lip Butter is the ultimate treatment for dry lips because of its unique whipped oil formulation infused with powerhouse vitamins A, C & E, aloe vera and honey – a trifecta of richly moisturizing, buttery goodness.
Here's why we developed (and now love) Lique Lip Butter, and why we're sure you'll love it too:
While many lip care products are formulated for one specific use, Lip Butter is your all-in-one solution for moisturizing dry lips, smoothing fine lines and wrinkles around the lips, and giving lips a healthy, radiant glow.
And because it's a lip oil whipped into a balm-like consistency, it's super easy to apply and packed with a higher concentration of nutrients than what you'd get in say, a product like lip gloss. Its nourishing properties and formulation also make our multifunctional Lip Butter great for moisturizing hands and cuticles; it's not ONLY for dry lips!
So now that you know what Lique Lip Butter is, let's talk a little bit about the ingredients that make it amazing.
We all hear about the benefits of taking our vitamins, and we all know that vitamins are important for staying healthy, but WHY?
Vitamins A, C and E
– all found in Lique Lip Butter – are powerful antioxidants. Antioxidants slow or prevent damage to our cells caused by our environments, which can cause signs of aging (like wrinkles). Vitamins A, C and E promote cell regeneration and contain moisturizing properties to help nourish skin and lips for a smoother, fresher appearance.
Soothe and Heal Sunburned or Dry Lips with
Aloe Vera
Aloe Vera
is a natural ingredient known for its soothing, healing properties, especially when it comes to burns, sunburns and the irritation and damage caused by them. Aloe Vera has actually been used medicinally for thousands of years! It contains antioxidant vitamins A & C, and is said to have anti-inflammatory qualities as well. Can you think of anything better for irritated, dry lips? Its fast-absorbing ability quickly delivers all of its wonderful nourishing properties to lips and skin; smooth it on and know that it's working to help your lips almost immediately!
Glow While You Heal with
Honey
Lique Lip Butter also contains
honey
, another multifunctional natural ingredient that benefits lips and skin. Honey is a natural humectant, which essentially means it attracts moisture; this makes it extra helpful for replenishing dehydrated, damaged lips with a major dose of moisture. Its antifungal and antibacterial properties are also a natural remedy for treating and preventing infections that can happen when lips become overly dry and cracked. Honey is a boost of hydration, radiance and healing all lips deserve!
Now that you're a Lip Butter expert, it's time to try
Lique Lip Butter
for yourself. We recommend incorporating it into your
daily lip care routine
for nourished, healthy lips that are ready for any adventure the day brings!