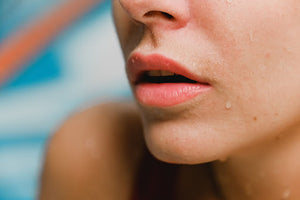 Lip Butter vs. Lip Mask: What's the Difference?
If you're anything like us: you put a lot of time and effort into your skincare and beauty routine. You know the lotions you like, the face masks you need, and the makeup brands you love to wear. The real question is: what are you doing for your lips? 
Your lips are prone to dryness and irritation - the same way your skin is! With that in mind, we're here to tell you that your lips deserve a lip care routine, too. 
As you look for different products to help you achieve soft, supple lips, there are two products you may run across: lip butter and lip masks. These items are both beneficial to have in your lip care routine but are more different than you might think.
Here's what you need to know about both of these products.
What is a Lip Butter?
Lip butters are typically loaded with nutrients and are similar to the face mask or hair mask you wear to bed. The formulas are designed to seep deep into your skin and provide you with an unreal boost of hydration. We like to think of it as the perfect added touch to your lip care routine. 
You'll want to use lip butter every night, depending on how chapped or dry your lips are. It's the perfect finishing touch to your beauty routine and will help you achieve gorgeous, luscious lips. 
If you're someone who frequently gets chapped lips and feels like lip balm is never enough, this product is for you. You'll want to use a lip butter a few times a week right before bed. If it's during the colder seasons, you may want to wear one more often. 
After a night of beauty sleep, you'll wake up feeling refreshed and nourished, with soft, supple lips. What more could you ask for? 
Our Lip Butter contains nutrient-rich ingredients, like honey and aloe vera. These ingredients work together to boost your complexion and smooth fine lines and wrinkles on the lips. 
The minute you apply this formula to your lips, you'll get a soothing glow and added moisture thanks to the honey! It's the ultimate, every night lip treatment. 
What is a Lip Mask?
Lip masks are similar to a lip balm you carry with you at all times except it provides next-level hydration. This lip care product is the easiest and most moisturizing thing you can add to your lips when you're in a hurry or need a little extra TLC. It's moisturizing, hydrating, and always there when you need it.
Keep in mind: that a lip mask doesn't replace your go-to lip butter. Instead, it enhances your lip care routine and gives you that extra touch of softness you've been craving.
Our Honey Lip Mask is formulated with jojoba oil, a naturally hydrating ingredient that helps lock in moisture and soothes dry, chapped lips. It also contains cocoa butter and vitamin E. 
Our lip masks also have a gorgeous tint, which means you can master the no-makeup look the moment you roll out of bed. 
Buy our Honey Lip Mask on Amazon!
How to incorporate both into your beauty routine
Your lip care routine can benefit from having both of these products. They both provide an extra boost of hydration to help you combat chapped lips and irritation but are designed for different times of the day. 
A lip butter will complement your nighttime beauty routine since it needs to be left on your lips longer to work its magic. A lip mask is a good product for nighttime care before you go out or while you're on the move for a wash of color.
Whether you suffer from chapped lips or the weather never plays nice with your lips and skin, it could be a sign you need to upgrade your lip care routine. 
Try incorporating both of these products into your beauty routine, and just wait until you see the results! You're sure to be impressed with how cushiony your lips feel.