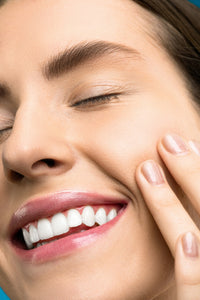 Out With The Cold, In With These NEW Spring Lip Color Trends
There's never a wrong time to wear luxe, dark shades of lipstick—Hollywood glam will never fall out of style. But the warm months are perfect to experiment with pastels, shimmer, sheer glosses, and warm shades of red. Fill your makeup bag with these versatile, bright lip colors for any occasion. 
Bold shades of pink are on every makeup artist's radar in 2021. This retro shade is totally 80's and looks gorgeous on almost every skin tone. Layer on Lover to turn heads; for a hydrating lip stain, apply two coats and blot. Pair this shade with our Lip Definer in Mistress to really make your pout pop. 
The classic nude lip just got an upgrade. Cashmere is simply elegant on freshly tanned skin or with a dash of bronzer. Matte, minimalistic, and subtle, it's easy to apply when you're on the go. Dress up Cashmere with a layer of Sparkle Baby/Clear Lip Mask, a thirst-quenching formula for dry and damaged pouts.
Thanks to the pandemic, we'll see sheer, elegant makeup looks dominate the warm months. Try a bright, metallic gloss to glam yourself up for your Zoom conference or a date night in. This stunning shade of lavender is perfect for anyone with a soft spot for girlie glamor. 
We think that a fantastic lip balm should be soft, supple, and buildable in color. If you're all about the no-makeup makeup look, or you can't get enough of the outdoors during spring and summer, a tinted lip balm is the perfect solution. Warm shades will be on everyone's lips this year; Fabulous/Coral puts a simple twist on a rising trend. 
Look no further for the perfect shade of Parisian pink. If you love nudes but need something with a touch of warmth, switch out your go-to lipstick for 'Saddle.' It's a perfect blend of subtle orange notes, tan, and pink, and you can wear it with every outfit. 
All it takes to magically transform your everyday makeup routine? A glossy, berry-colored lip. Pair Potion with bold dark blue or black liquid liner for a dramatic, eye-catching look. Add a clear gloss on top and a light dusting of your favorite pink eyeshadow for a sweet, sexy look. 
This creamy, red-orange lipstick adds a touch of glam to your favorite sundress and seals your lips against dry, salty air. Don't forget to slip it in your beach bag! Turn up the heat with a light dusting of our Lip & Eye Effects in Gold or Naked. Equal parts luxe and tropical, this combo will carry you away to the island of your dreams (even in quarantine!). 
Ultra-hydrating lip glosses shouldn't be messy or sticky, especially in the pandemic. For a brighter, more dimensional take on brick red lips, apply a few coats of Catfight. If you just can't resist the temptation of a dark-colored lip, layer Catfight over a few swipes of this 'Magic' crème lipstick. 
Most of us associate dry, cracked lips with winter weather. But when temperatures heat up and the sun crawls out, your lips need extra moisture. Pink is a spring/summer favorite, and High Roller smooths and plumps up your pout. We love a sweet, simple neutral that looks stunning on its own or paired with a full face of makeup. 
The warm months are the perfect time to experiment with a sweet and sultry liquid lip that won't melt in the heat. We created this shade as a love letter to all the babes who love candy-colored lip color. Love Letter offsets intense eye makeup, and it's ideal for the 'no-makeup' makeup look we'll see all over the runway in 2021. 
Pro tip: your skin tone can make your lip color look drab or fab. Take a look at our guide to choosing the best lipstick for your skin tone before you buy.