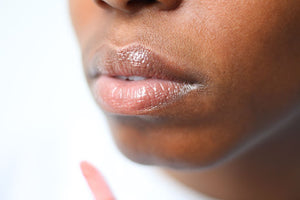 Seven Tips to Keep Your Lips Moisturized This Winter
No matter how pretty the first snow of the season can be, winter brings its share of annoyances. 
Inevitably, you'll endure frozen windshield wipers, slushy sidewalks, and of course, chapped lips. Chapped, dry lips are a constant winter frustration. 
But you don't have to accept your dry lip fate. By taking steps for proper lip care, you can maintain moisturized lips all winter long. Follow these seven tips to keep your lips moisturized and healthy this winter.
1. Exfoliate Chapped Lips
If your lips are getting particularly flaky, it's time to exfoliate. Exfoliation is the process of removing dead skin using a chemical or tool. 
It's important to remove dead skin to restore your lips to a healthier texture. Exfoliating is easy with the right product. Try our nourishing Organic Lip Scrub. 
First, wet your lips before applying the product. Gently rub the lip scrub in a circular motion on your lips. Finish by rinsing off the lip scrub and applying a moisturizing lip balm. 
You don't want to overdo exfoliation, as it can dry you out even further. Removing dead skin weekly will help get rid of pesky lip flakes.
2. Use a Humidifier
Brisk weather paired with a constant furnace at home is a recipe for dry lips. It's a no-brainer that your lips are in dire need of some moisture. 
Many dermatologists recommend using a humidifier to add moisture back into your parched skin. Since we're mostly water, it only makes sense to increase the moisture in your home.
Not only will humidifiers help your lips, but they can also improve your skin and hair too. By no means should a humidifier replace a proper lip care routine, but it can help with dryness! 
Be sure to clean your humidifier thoroughly and regularly to avoid bacteria buildup.
3. Use Moisturizing Ingredients
When picking your lip balm, it's essential to choose the best ingredients. Try natural, moisturizing ingredients like jojoba oil. Jojoba oil heals chapped lips naturally by creating a protective moisturizing seal. 
Our Ambitious Lip Balm uses jojoba oil infused with coconut oil for a moisturizing vegan formula.
Other great lip ingredients include cocoa butter, shea butter, and vitamin E. We offer lip balms and lip glosses containing these nourishing ingredients. 
4. Apply Lip Products with Sunscreen
Did you know your lips can get sunburn too? Harsh winds and freezing temperatures can only add to your lip irritation outdoors. 
To brace the elements of winter, use lip products that contain sunscreen as well. You can help heal dry and sunburned lips with proper lip sun care. 
Lips are especially prone to sun damage due to their thinness. Don't expose them to harmful UV rays. Protect your lips with a lip sunscreen of at least 30 SPF.
5. Avoid Irritating Ingredients 
Not all lip products are equal. Avoid irritating ingredients that can make your chapped lips feel worse. 
Irritating ingredients can inflame your already irritated lips. While these are common ingredients in lip balm, they're not effective ones. 
Be on the lookout for salicylic acid and other common irritates. Despite initial relief, these ingredients will dry out your lips even further.
6. Resist Licking or Picking Dry Lips
Painful cracked and dry lips can be irritating. While it may be tempting, it's important not to lick your lips or attempt to pick them. It may feel harmless, but you'll ultimately contribute to further dryness. 
Once the saliva dries after licking, you will be in more lip pain. If you catch yourself licking or picking, immediately stop. 
Instead of contributing to these habits, apply a moisturizing lip balm whenever your lips feel dry.
7. Stay Hydrated!
Hydration shouldn't stop in the summer. Dry environments can reduce your saliva production. It's more important than ever to stay hydrated in the winter months. Hydration can help seal in the moisture in your lips.
Constantly breathing in dry air will make you thirsty. Be sure to drink at least eight glasses of water a day. Hydrating on the inside will certainly help hydrate your lips on the outside.
Conclusion
Don't let chapped lips be your downfall this winter. With proper lip care and the right lip products, you can prevent dry, painful lips. 
It can be difficult to find lip care that is both natural and pigmented. That's why we formulated our lip care for the everyday woman. For natural and cruelty-free lip care, shop at Lique Cosmetics.