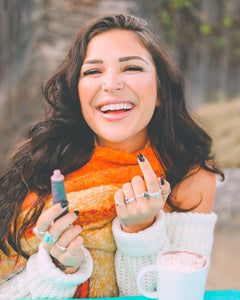 Soothe Your Lips With Hydrating Lip Masks
For those of us in the Northern Hemisphere, the air outside is just beginning to get a little bit colder. Unfortunately, cold air is dry air, which means it's as important as ever to put a little bit more effort into your skincare routine. Lips are by far the most sensitive parts of our face and often need just a little bit more patience than the rest of us.
Lucky for you, here at Lique we've developed our formulas with a mix of ingredients that not only add hydration but form strong barriers to keep that hydration locked in. Our
Lip Masks
are especially good at repairing dry, chapped skin and can be put on whenever you feel like it. Whether you're getting ready for a big day out or using it overnight, you'll be able to feel the lasting effects of our Lip Masks for more than just a few hours. 
A key ingredient in our masks is
jojoba oil
. It thrives in arid desert climates and has been used for centuries because of its moisturizing properties. It has even been used to heal wounds and cook with, just like coconut oil. It is also incredibly effective in combating things like acne, sunburns, and the kinds of fine wrinkles that form around the corners of your mouth and eyes. The chemical makeup of jojoba oil is incredibly similar to that of our own skin oils, meaning that our bodies are more likely to absorb it quickly and less likely to become irritated by it. 
Cocoa butter
has also been used for a long time because of its moisturizing properties. It's high in fatty acids, which help form a protective barrier on our skin that locks in important moisture and keeps the bad stuff out. It improves elasticity, which, of course, means you don't have to worry about any premature wrinkles. Some plants, like cocoa, have things called phytochemicals. These naturally occurring chemicals are thought to improve blood flow (the source of that natural glow we are always looking for!) and protect against harmful UV rays. Cocoa butter, like jojoba oil, is also rich in antioxidants, like vitamins E and A. If you're prone to skin conditions like eczema and dermatitis, cocoa butter is also fantastic at healing scars and warding off future outbreaks. 
Vitamin E
is, as we mentioned, an antioxidant, meaning that it slows the damage caused to our bodies by free radicals. It promotes cell regeneration and helps protect against signs of early aging and sun damage. When used on dry lips, ingredients that promote cell regeneration speed up the growth of new skin cells and help bring them to the surface quicker than normal. This means that by going to bed with one of our Lip Masks, there's a good chance you'll wake up with a brand new pair of lips (or something close to it, at least). 
Although winter certainly calls for more skincare, you'll find yourself using our Lip Masks all year long. Pair it with our
Hydrating Lip Balm
or
Lip Butter
for all-day hydration and, to top it off, a
Lip Scrub
for those nights when you feel like you just need a little bit more. Either way, you'll never have to worry about waking up with sore, dry lips ever again. You deserve it!