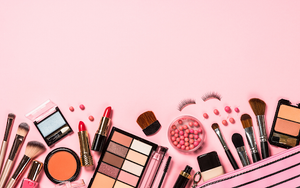 Spring Clean Your Makeup Collection
Spring is almost here! That means it's time to clean and prepare for a new, warmer season that's right around the corner. As you start to clean out your cupboards or closet and get rid of anything you don't need, you may want to consider doing the same thing with your makeup collection. 
Not sure where to start? We're here to help!
Here's how you can get started. 
Out with the old, in with the new
There is no better time to refresh your go-to makeup looks and shop for new makeup than springtime. 
We recommend spring cleaning your makeup collection and looking to see if there's anything expired or old that you can throw away so you can make room for the new. 
As a rule of thumb, lipstick typically has a shelf life of about one year. Eyeliners and mascaras should be replaced every three months to avoid any unwanted bacteria in and around your eyes. Most foundations can last around 6 to 12 months. 
If you have any other makeup products that you aren't sure about, we recommend doing your research or looking to see if it's still in good condition.
After that, you'll know what you need to restock on before you start diving into any springtime makeup looks.
Don't be afraid to let it go!
We're all guilty of holding on to old makeup products that no longer serve a purpose. Whether it's an old makeup bag or an old bottle you wanted to keep to remind you to buy more, it's time to let it all go!
Give your makeup brushes a good clean
Don't worry, it happens! However, forgetting to regularly clean your makeup brushes can lead to a build-up of bacteria that you won't want to put on your face. 
It's an essential part of any makeup routine because it helps protect your face from unwanted bacteria, dirt, and grime. 
To get started, you'll want to wet all of the bristles and then gently massage your cleanser into the bristles with your hands. After, make sure you remove as much moisture as you can with a clean towel. This extra step will help get rid of any unwanted residue. 
Making a habit out of doing this can help keep your skin clean and protected from outside factors. 
Also, this is a great time to see which brushes have been overused or are losing their touch, make note of whichever ones you throw away so you can purchase more when you do a springtime makeup haul!
Get ready to organize!
Of course, you don't want to throw all of your makeup away just because it's a new season. As you go through what you know you want to keep, you'll also want to organize everything you can to make it easier to find.
While doing this, take note of which colors you'd like your next eye shadow pallet to have or what type of lipstick you want to get for your upcoming makeup looks. 
Shop for your springtime must-haves
Once you know what you have and what you don't, it's time to shop for what you need. As you take inventory of what you think you might be missing to accomplish the makeup looks you want to, that's when the real fun begins! 
If you aren't sure how you want to refresh your routine, we recommend starting with the basics that you'll know you'll use every day, such as a Face Prime Stick and a Facial Spray. Since spring is usually warmer than winter, you may want to go for a lighter foundation, like a BB Cream.
From there, you'll want to restock on your favorite lipsticks and lipglosses. Consider playing with a new color that you don't usually try or looking for something that's more fitting for the summer or springtime weather, like our Daring Cream Lipstick or Kitten Cream Lipstick. Don't worry, you can stock back up on cooler tones at the end of summer!
We hope this inspires you to get ahead of springtime cleaning and to clean out your makeup collection! You won't believe how refreshed you'll feel once you have a clean and organized makeup collection that serves a purpose. As you shop for new products to refresh your stash, we encourage you to have some fun with spring makeup looks, step out of your comfort zone, and have some fun with your makeup this season!