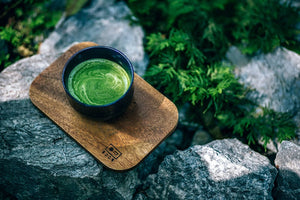 The Benefits of Green Tea in Your Beauty Routine
The beauty industry is full of different products formulated with innovative ingredients. As you explore the internet looking for the best of the best to help you treat your unique concerns, you may have noticed green tea popping up once or twice in your search results.
If you didn't know, green tea is for more than just drinking in the mornings or after a long day. This herbal tea is also an essential ingredient found in a wide variety of skincare and beauty products. 
Here is what you need to know about the nourishing effects of green tea. 
Why green tea?
Green tea is full of nutrients, vitamins, and antioxidants. It's derived from the Camellia Sinensis plant and has been a popular herbal tea that Eastern cultures enjoy drinking for its medicinal effects. 
Green tea is still one of the most popular herbal teas you can find and is still loved and cherished by individuals around the world!
This must-try tea is related to black tea. Except black tea doesn't go through the same fermentation process, so it doesn't contain any essential antioxidants as green tea. 
The benefits of green tea
Antioxidant 
By now, you're probably aware of how important antioxidants are for your skin and body. Since green tea is considered an antioxidant, it's a great ingredient that can help protect your skin from free radicals and environmental stressors. 
Without antioxidants, your skin is left to fend for itself, which can cause wrinkles, fine lines, and unwanted signs of aging. 
Brightening properties 
Green tea contains catechins. Studies have shown that catechins can help with the skin, brighten dark spots, and improve the appearance of your skin's complexion. 
Evens skin tone
Green tea contains vitamin B3 and vitamin A. Both vitamins can help improve your skin texture, eliminate unwanted redness, and stop inflammation in its tracks. 
With the extra help of these nutrients, you can improve the visible appearance of your skin and enhance your skin tone.
Hydration booster
Vitamin E is a hydrating, fat-soluble vitamin commonly found in green tea. Using vitamin E and vitamin E-rich nutrients regularly can help protect your cells from unwanted damage and help your skin retain moisture. 
Using green tea and vitamin E consistently can help soften your skin over time and help you achieve that soft, supple youthful glow you desire. 
A natural de-puffer 
Green tea contains caffeine. Caffeine is a common ingredient used as a morning serum to help remove puffiness and eliminate dark circles. 
Many individuals use face masks formulated with green tea to help them combat swelling and puffiness. 
Treats acne-prone skin
With all of the anti-inflammatory, antioxidant, and antimicrobial properties of green tea. It's no wonder green tea is also great for treating acne and oily skin! Applying green tea to your skin can help reduce sebum secretion, minimizing acne breakouts. 
Experience green tea with our Face Primer Stick 
If you're ready to experience the nourishing effects of green tea, there's no better place to start than with your base layer. 
Our Face Primer Stick isn't like those other primer sticks. It's expertly formulated to not only increase the longevity of your makeup looks but to also nourish and pamper your skin. 
Our formula contains botanical oils, cucumber extract, and green tea. Together, these ingredients will breathe life into tired skin and leave your skin looking better than ever. The no-touch applicator makes it easy for you to quickly and easily glide on your base and prep your skin for the rest of your makeup routine. 
With the help of green tea, you can rest assured your skin is getting all the help it needs. The green tea infusion helps reduce inflammation, even your skin tone, and creates a luminous, healthy glow.
With the help of our primer stick, you can enhance your makeup routines with all-natural ingredients and get the flawless application you desire. 
What more could you ask for from a primer?
Shop our Face Primer on Amazon!
Reach your beauty routine goals with Lique Cosmetics 
If you want to do more for your skin, you need to start by using all-natural ingredients. All-natural ingredients help you achieve your skincare goals and leave you feeling your absolute best. 
If you're ready to start upgrading your beauty products by incorporating all-natural ingredients, you've come to the right place. 
Feel free to explore our list of active ingredients today to learn more.