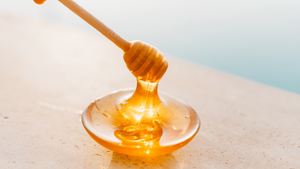 The Benefits of Honey In Your Lip Products
Oh, honey! Who doesn't love the taste of sweet, delicious honey? It's a kitchen staple that's great for adding some flavor to your favorite dishes and adding some sweetness wherever you need it. 
Did you know that honey is more than just a kitchen essential? It's also a great skincare ingredient that can help you achieve the soft and supple lips of your dreams. 
We're here to walk you through everything you need to know about why you should start adding honey to more than just your favorite meals. 
Here's what you need to know to get started:
The Benefits of Honey in Lip Care 
Heals Chapped Lips 
No one likes dealing with chapped lips. If it's a recurring problem you're always dealing with, you may feel hesitant to apply your favorite lipsticks or lip colors. 
Honey is known for its wound-healing properties. If you're suffering from drier-than-average lips, a little bit of honey can help combat flaky skin and give you that soft, supple look you've been craving! You'll always be ready to take on the day with confidence and a gorgeous finished makeup look.
Preventive Care
This healing ingredient is also great for preventive care. Choosing lip care products rich in honey is a great way to prevent cracks, flaky skin, and dryness. 
The honey will seep deep into your skin and help lock in moisture. So you can confidently combat the colder months ahead with an extra layer of protection. 
Retain Moisture
Honey is also a natural humectant. This means it attracts and retains moisture. All those outside factors can take a toll on the sensitive skin on your lips. Colder winds, freezing temperatures, and a full day in the hot sun: Can cause more harm than good. 
With a honey lip care product, you can retain moisture and keep your lips hydrated through any and all weather conditions. You can confidently step out of the house ready to flaunt your favorite lip gloss or lipstick.
Antibacterial and Antifungal Properties 
If you aren't too careful, dry lips can lead to unwanted infection and irritation. Bacteria can seep into the cracks and leave your lips inflamed. With honey by your side, you can strengthen the capillaries in the skin of your lips and combat unwanted inflammation. This will improve the look and feel of your lips, helping you maintain a look of sheer beauty.  
Add More Honey To Your Lip Care Routine
Ready to experience honey firsthand? You're exactly where you need to be. At Lique Cosmetics, we have crafted two high-end lip care products with honey, so you can achieve those ultra-hydrating lips you've always wanted. 
Our Lip Butter is a lip care essential everyone needs in their purse, pocket, or backpack. The whipped oil formula contains nutrient-rich ingredients like honey, aloe vera, and vitamin E. These ingredients work together to boost your complexion and smooth the appearance of fine lines and wrinkles on your lips. Adding our Lip Butter into your daily routine is a great way to achieve a kissable pout.
If your lips require some extra TLC, you'll want to try our Honey Lip Mask. Lip masks are a great tool to help you revive your tired pout with a nourishing formula. Apply to your lips before getting ready for the day or jumping into bed. The blend of honey, vitamin E, cocoa butter, and jojoba oil will help soothe dry, chapped lips and give you a super cushiony kiss. 
Enhance your Lip Care Routine with Lique Cosmetics 
If you didn't know: The skin on your lips is delicate and requires extra care to maintain its natural beauty. So you'll want to ensure you always have at least one hydrating lip care product by your side.
At Lique Cosmetics, we're all about using the best of the best ingredients to help you keep your lips nourished. With our honey-rich products, you can replenish dehydrated, damaged lips with extra moisture and always look your absolute best. 
So, are you convinced honey is the new go-to ingredient you've been missing in your daily routine? Start shopping today!