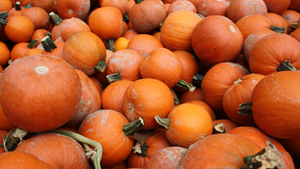 The Benefits Of Pumpkin In Skincare
This may come as a shock, but pumpkin is great for more than just pumpkin spice lattes and delicious pumpkin pies on the Thanksgiving table. In fact, it's actually commonly used in a wide range of skincare and beauty care products. Pumpkin seed oil is a go-to core ingredient that contains heart-healthy fats and a ton of antioxidants your skin and body can benefit from.
Here are the benefits of turning your fall favorite food into a skincare must-have:
The benefits of incorporating pumpkin in your skincare
Jam-packed with nutrients 
Every part of the pumpkin is jam-packed with nutrients your skin needs to thrive. Everything from the seeds to the flesh of the pumpkin can be used in your beauty care products. The pumpkin seed oil contains vitamins A, C, E, and zinc. This is why this versatile ingredient is commonly used as a supplement, cooking oil, or a topical.
Anti-aging benefits
Tired of pesky wrinkles and imperfections caused by aging? Sounds like you need more pumpkin in your skincare! Pumpkin has essential enzymes that help remove dead skin cells and promote cell regeneration. This means using pumpkins regularly may help reduce fine lines and wrinkles. 
Combat free radicals
Free radicals can do some serious damage to your skin. The worst part is: They're everywhere. From the smog and cigarette smoke to the fried foods you binged this weekend: Free radicals can't be avoided. The only way to combat free radicals is with antioxidants. Pumpkins contain vitamin C and beta-carotene. These two nutrients work to fight off free radicals and help you maintain a youthful glow.
Promotes hair grow 
Some studies suggest that pumpkins can help with hair loss and thinning. That's because pumpkins contain folate. This is a B vitamin that can stimulate hair growth when incorporated into your routine. Many individuals will apply pumpkin seed oil directly to their scalp to promote hair growth.
Helps with dry skin
Pumpkin seed oil penetrates deep into your skin, leaving a soft and supple touch. The combination of vitamins A, C, and E and essential fatty acids helps boost collagen production and retain moisture. If you're looking for a go-to moisturizer with nutrients, look for pumpkin seed oil and pumpkin seed extract on the back of ingredient labels!
UPGRADE YOUR BEAUTY ROUTINE WITH NATURAL INGREDIENTS
If you want to do more with your beauty products, you've come to the right place. At Lique Cosmetics, we value natural ingredients and want to help you experience the differences with our beauty care products. Feel free to shop by ingredient to explore the different benefits of natural ingredients today.