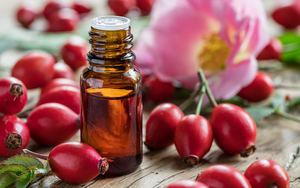 The Benefits of Rosehip Oil in Makeup and Skincare
While the name "rosehip" might sound odd, introducing it into your daily beauty routine is one of the best things you can do for your skin.
More beauty brands are adding rosehip oil in everything from cheek and lip balms to much more.
It's true the benefits of rosehip oil in makeup and skincare can hydrate dull skin, improve texture, and nourish tired-looking skin.
Keep reading to learn more about this oil and how it can help you look your brightest and best.
What it Is
Rosehip, also known as rose haw and rose hep, is the fruit of the rose plant.
Usually red to orange in color, it can also be dark purple or even black in some species. 
Rosehip oil is created by using the rosa canina rose bush, grown in Chile which is then pressed from the fruit and seeds of the rose plant.
It has been used for centuries for various beauty treatments, cosmetics, and other skincare aids thanks to its many vitamins and essential fatty acids.
In addition, rosehip oil has phenols that offer antiviral, antibacterial, and numerous antifungal properties.
Many companies and those who make their own skincare and cosmetics use rosehip oil as a base because other carrier oils might be too harsh on the skin directly.
Here are some ways rosehip oil can help your skincare routine and in general make your skin glow.
Superb Hydration
If your skin is dry and flaky, chances are you're not getting enough hydration which is key for supple skin. During the winter months, this can be even more problematic for those who have problem skin to begin with. 
Rosehip oil's numerous fatty acids make for a wonderful way to hydrate dry, itchy skin. The skin quickly absorbs rosehip oil resulting in rich antioxidants penetrating deep within the skin's layers.
Mega Moisturizer
One 2015 study says applying rosehip oil topically daily on dry skin will do wonders and unlike many other oils is nongreasy – it's the perfect moisturizer for all skin types.
Exfoliate, Brighten Skin
Tired of dull skin especially in the colder months? Exfoliating with rosehip oil helps reduce dullness and instead replaces it with glowing, vibrant skin.
Rosehip oil is high in vitamins A, C, all ingredients that can help shed dull skin resulting in rapid cell growth. 
Vitamin C is also helpful in cell regeneration, boosting a lovely radiance that friends and family will be envious of.
Boost Collagen 
Collagen is what makes our skin appear firm and supple, without it, you look tired and sagging. 
While the body produces less collagen as we get older, rosehip oil is rich in vitamins A and C, therefore it helps in the production of collagen. 
Since rosehip oil is high in polyphenols and anthocyanin it may help reduce any inflammation like eczema, rosacea, psoriasis, or the like you might have. 
Also, its wealth of vitamin E, an antioxidant known for its anti-inflammatory effects can help ease inflammation.
Protect Against Sun Damage
While a suntan might look good, most know UV rays are bad for the skin in the grand scheme of things. And as we get older, damage from exposure to the sun results in premature aging. 
However, using rosehip oil or a product containing rosehip oil could prevent photoaging. But don't skimp on the sunscreen as rosehip oil is not a sunscreen and shouldn't be used as such.
If you're looking for a wonderful way to moisturize and brighten skin this winter try any of Lique Cosmetics containing rosehip oil. 
For example, Resilient Lip & Cheek Stick is a vegan formula infused with rich shea butter, rosehip, and camellia seed oils for a healthy dose of hydration wherever you wear it.
How to Use Rosehip Oil
Another plus about rosehip oil is it's not greasy and easily absorbs into the skin. However, perform a patch test and wait 24 hours before applying to your skin. 
Look for signs of irritation and if it's red or inflamed in the patch area, don't use rosehip oil or any product that contains the oil. 
If the skin doesn't show any irritation you can apply the product as directed by the manufacturer. 
Overall, rosehip oil is an excellent way to keep your skin looking soft, supple, and well-nourished especially during the holiday season as well as into the colder months ahead.