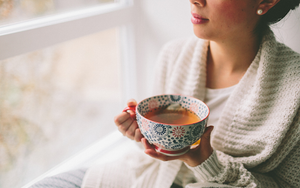 The Benefits of Tea in Beauty Products
Clean makeup and skincare products are becoming more sought-after within the cosmetic industry. 
Along with this demand comes the growing desire for unique ingredients such as tea in such products. Tea isn't a one-trick pony. It's an excellent beauty staple courtesy of mother nature. 
While drinking tea has tremendous health benefits such as contributing to heart health, being a great source of antioxidants, and hydrating the body, topically applying products infused with tea has incredible advantages for the skin as well. 
Keep reading for a breakdown about the benefits of green and white tea in beauty products to help you refresh your skin — as well as your cosmetics.
Let's talk green tea
Made from the Camellia Sinensis plant, green tea in beauty products has countless benefits for your skin. 
Here are some of the ways green tea can benefit your skin when infused with beauty products. 

Hydrates the skin
Green Tea is packed with Vitamin E and Vitamin B2, which are two key elements essential for healthy skin. 
Vitamin E performs as an intense hydrator, which is particularly ideal for dry or imbalanced skin. 
Vitamin B2 on the other hand promotes healthy cell turnover for a glowing complexion. 
Shrinks pores
Green tea can help shrink pores as it contains tannins, and large pores are a sign of premature aging. 
Tannins are a natural astringent, so they can help draw out excess oil from pores but without drying out your skin. 
Our face primer stick provides a flawless base for makeup application and includes green tea as an ingredient to help minimize and blur pores. 
Dewy base and skincare benefits? Yes, please!
Reduce redness and puffiness
The anti-inflammatory properties found in green tea, along with tannins and caffeine, help refresh sore, puffy eyes and dark circles by shrinking the blood vessels around the eyes to reduce swelling and soothe irritated eyes. 
When applied topically, green tea-infused products can also decrease inflammation connected to premature aging.
Rich in antioxidants
Green tea can be seen as a valuable superhero ingredient, particularly when it comes to powerful antioxidants because it contains EGCG. 
EGCG is a fantastic component of beauty products. It can slow down or stop the development of acne and provide a smooth and even complexion by combating breakouts, lowering excess sebum to unclog pores, and treating dull, blemished skin. 
So, let green tea bring out your skin superpowers!
Moving on to white tea
Also known as 'beauty tea,' white tea is another natural ingredient with huge health, skin, and beauty benefits. 
When introduced into your beauty products and used topically, white tea can restore skin for a healthy, glowing complexion. 
Also from the Camellia Sinensis plant, white tea is made from young, withered, and dried white buds.
Here are ways in which beauty tea will benefit your skin when using products with white tea extracts.
Protects the skin from sun damage
Ingredients in white tea effectively fight free radicals and boost the immune function of skin cells, and protect against damaging effects from the sun. 
Topically applying products with white tea extracts can also protect the skin from oxidative stress to help restore our skin's immune cells. 
Our BB Creams and Lip & Cheek Tints are available in various shades and revitalize and build your skin's resistance against stresses that cause damage.
Soothes skin
White tea is an excellent addition to beauty products as it's packed full of phenols. This is essential for creating healthy skin. 
It's also incredibly beneficial for your skin as it helps strengthen collagen and elastin, resulting in a smoother, more youthful appearance.
There's a growing list of new and valuable ingredients within the beauty industry, but tea will remain one of the most beneficial natural ingredients. 
With essential qualities like acting as a powerful antibacterial agent, maintaining collagen levels, treating acne, and soothing the skin, tea is a beauty fundamentals. 
There's a diverse variety of tea-infused products available at Lique Cosmetics that will undoubtedly benefit your skin beyond the purpose of makeup.