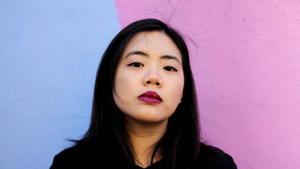 The Best Lip Color To Wear During The Holidays
The holidays are quickly approaching, and now is the time to look for those holiday party outfits, cute boots, and new lip colors to flaunt. Whether you're looking for a dramatic lip color so all eyes can be on you when you walk into a room or want something more soft and subtle for everyday use: We have you covered. 
We'll walk you through all the must-try trending lip colors you'll want to wear during the holiday season. So you can be prepared to look your absolute best on every festive occasion.
Let's take a closer look: 
Different Shades of Brown
That light brown 90s lip trend isn't going anywhere anytime soon. Playing with different shades of brown is a great subtle approach to holiday makeup. Many brown shades are darker than the go-to nude lip, providing more contrast to your makeup looks. 
Always consider your skin color when looking for different shades of brown lipstick. If you aren't careful, they may leave you looking washed out. 
Meet the liquid lipstick of the season: Our Double Shot Matte Liquid Lip. This high-pigmented, rich formula is everything you need to get the pout you've been craving for the holidays. The matte look adds a sophisticated touch that expertly complements the rich mocha color. 
We're sure you can think of at least an outfit or two this liquid lip color would be perfect. 
Maroon or Burgundy
Who doesn't love classic red lipstick? The gorgeous tint is always a must-have if you want to be the center of attention. Well, we're here to encourage you to take it one step further! With a deep red, you can elevate your look and provide a timeless feel you'll love for every holiday occasion you have planned. 
So what do you say? It's time to trade in that bright red for something with a bit more edge. 
Get moody with your lip colors with our Magic Cream Lipstick. This captivating color is the perfect maroon color you've been searching for for the holidays. The dark color will add a level of contrast to any of your makeup looks and help you steal the show every time you walk into a room. 
Another one of our newest holiday obsessions is our Obsessed Cream Lipstick. This color has a slightly brighter look and feels than our Magic color. However, it still has that festive flair you need for any occasion. 
Pretty in Mauve 
If you're tired of your go-to red shade or have worn a pink lip too many times, you've lost track of counting: It's time to switch it in for a mauve. Mauve is a blend of purple and pink. It's a great shade for anyone that has cooler undertones.
Make a statement with lush lips dressed in our Dreamy Cream Lipstick color. This lightweight, creamy formula is perfect for all those holiday date nights and dinners out with friends. The best part? You can flaunt this gorgeous mauve color and keep your lips moisturized all night long! 
Soft and Subtle Shades of Pink 
Every shade of pink is soft, subtle, and effective. Pink is a great casual lipstick color for any company parties, Friendsgiving, and dinners with the inlaws. It's not too overwhelming, but it still leaves a statement. Plus, you can wear practically any shade of pink well into the springtime.
The only pink lipstick you need this season: Our Enchanted Cream Lipstick. This gorgeous pink is the perfect complement to all your dressy and casual outfits. 
Looking for something more matte? Consider our Chatter Box Matte Liquid Lip. It's a timeless rosy nude color with a playful aura. If you're looking for something soft and subtle that you can always rely on: You can't go wrong with this long-lasting, smudge-proof matte liquid lipstick.
Elevate Your Holiday Looks with Lique Cosmetics 
At Lique Cosmetics, we know how important it is for individuals to find the perfect lip color to obsess over all season long. When you choose any of our go-to lip products, you can feel confident about the formulas and ingredients you're using. We only use the best of the best to create the rich, colored pigments you need for the holidays.
Start shopping today.