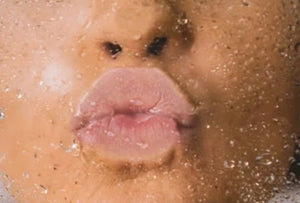 The Secret To Getting The Wet-Lip Look This Spring
High-shine lips are on the horizon. That's right: the wet-lip look is making a huge comeback this spring and summer! Here are 6 fail-proof steps to achieve glossy, juicy lips that last all day. 
What IS the wet-lip look? 
The wet-lip look is exactly what it sounds like: lips that are so dewy and shiny that they look wet! It's a simple makeup trend that you can sport on any occasion. 
You can customize the wet-lip look to suit your sense of fashion. If you prefer a simple, "no makeup" makeup look, you can skip putting on lip color and go straight for a no-fuss, clear gloss — or try an understated shade from these trending lip colors.
If dramatic, intense lips are your thing, the wet-lip look is perfect for upping the drama. Nothing is more attention-grabbing than gorgeous, glossy lips! All you need is a glittery blush or highlighter to complement your gleaming smile. 
Boost your hydration game  
How much water are you really drinking every day, doll? Don't skimp on your fluid intake — seriously, your lips will thank you. 
There's a simple reason that your lips are the first part of your face that gets painfully dry. Unlike the rest of your body, your pucker has no oil-producing sebaceous glands. That spells cracking and peeling when temperatures fluctuate or you use irritating products. 
The best way to get in the habit of hydrating often: keep an H2O log! Tally every 8 oz. glass of water you drink in your phone. Avoid drinking too close to meals or over-hydrating (that's a thing, and it's dangerous). 
Prep your pout with a lip scrub
The enemy of smooth, high-gloss lips? Dead, cracked skin. 
Before you even think about reaching for your lipstick and lip gloss combo, make sure you have a smooth, flawless base. Refreshing your pout will prevent the lip color you pick from cracking. 
Don't risk making your own lip scrub out of at-home ingredients that do more harm than good, like almond shells or coffee grounds. Go for a sensitive skin-approved, minimalistic lip scrub infused with nourishing oils. (Remember: don't exfoliate more than once per week!) 
Apply a coat of lip balm for extra hydration 
The wet-lip look is ultra-glossy, so apply your favorite lip balm for an extra shot of moisture. 
It's twice as important to use lip balm after your lip scrub — nourishing ingredients like coconut oil and shea butter pack a stronger punch on freshly exfoliated skin. Make sure to let your lip balm sink in for a few before you move onto the next steps! 
Optional: double up with a lip butter or lip mask 
Is your pout screaming for moisture? Take the extra step and use a rich, hydrating lip butter or a leave-in lip conditioning mask. For unbeatable shine, spread a coat of lip butter over your lip mask! 
To get the most out of your lip mask, wear it the night before you recreate the wet-lip look. If cracked, chapped lips are the norm, look out for irritating products in your skin and lip care routine or try a gentler toothpaste. 
Glide on your go-to spring/summer lip color  
Pinks, corals, and soft pastels will be on everyone's lips this season. If you adore K-Beauty, try the gradient "popsicle" lip trend that's usually paired with the wet-lip look. 
It's simple: using two complementary lip colors, apply the darker shade in the center of your lips. Blend the lighter shade in the outer corners. Apply a clear, plumping gloss to finish! 
Not sure which lipstick shade to try? Check out our recommendations for the best spring/summer 2021 lip color trends and our how-to guide for choosing the best lipstick for your skin tone. 
Finish your look with a non-sticky gloss 
The last thing you need is a sticky, messy lip gloss, especially if masks are a part of your daily routine.
You might need to reapply all-natural, high-shine glosses more often than your average lip gloss. But there's a benefit: avoiding
chemicals and emulsifiers
. After you apply your favorite lip color, swipe on
a matching lip gloss
(or a gloss in the same color family — pair warm tones with warm tones).