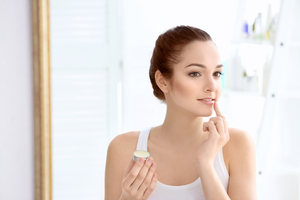 The Ultimate Morning Lip Care Routine
Do you have a skincare routine? If yes, why don't you give your lips that same type of attention? 
The skin on our lips is thin and fragile, which means it's more prone to getting dry or chapped, which can get in the way of your favorite lipstick looks. 
Chapped or dry lips happen for several reasons. Whether they lack moisture, the weather isn't in your favor, or you have a habit of licking your lips too often.
But don't worry! We're here to help you build a morning lip care routine to help you get the softest, most kissable lips.
Here's what you'll need:
Step 1: Lip Scrub
To start your morning with a perfectly smooth, soft-to-the-touch canvas, you'll want to start with an exfoliant. Exfoliating is a must for anyone, especially if you deal with chapped or dry lips daily. 
Lip scrubs remove dead skin cells, make room for new cell growth, and remove all of that unwanted dry or flaky skin. Lip scrubs also work to even out your lip tone, remove any discoloration, and visibly improve the appearance of your lips.  
To get started, apply a small dab to your lips and gently rub your lips together. The fine texture of sugars gently buffs away dry skin and leaves your lips smooth and ready!
Step 2: Lip Masks 
Once your lips are nice and smooth, it's time to add some moisture back in with a lip mask. 
If you plan on spending all day in the sun or out and about it, the environmental stressors around you can be damaging and draining on your lips. You'll want to have an extra layer of moisture to help retain hydration. 
Our lip masks contain jojoba oil, cocoa butter, and vitamin E, three needed nutrients that will give you an extra boost of hydration at the start of your day. 
All you need to do is, apply a small amount and let the mask sit for a while before moving on to the next step.
Step 3: Lip Balm
Next, it's time to apply your favorite lip balm! Ours are infused with essential hydrating ingredients like coconut oil and jojoba oil. 
Jojoba oil contains vitamin E, an antioxidant that helps your lips fight off oxidative stress caused by everyday exposure and other environmental factors. 
Coconut oil has anti-inflammatory properties and is considered an emollient. This means it creates a protective barrier on your lips and locks in moisture, so you can flaunt your favorite lip color all day without worry. 
Applying a lip balm to your lips and keeping it in your purse will help you maintain all-day hydration and never need to worry about chapped lips! 
Step 4: Lipstick or Gloss
This is where the fun begins! It's time to have some fun with playful colors and give your lips a fresh layer of lipstick or gloss! It's up to you how you decide to finish the look. 
Maybe you want to achieve an all-natural look with a tinted gloss, or you want to go all out with a red lip. Every day is different, and so your lips can also be. 
Don't forget! The first three steps are vital to ensuring your favorite lipstick color lasts all day and looks its best. 
Creating a lip care routine with Lique Cosmetics 
We always use natural ingredients that your lips can benefit from. Every time you apply your favorite Lique lipstick or gloss, you can rest assured knowing your lips are getting all the nutrients they need to thrive. 
Ready to build out your
ultimate morning lip care routine
? Shop our selection of
lip care products
today!